Shakespeare might think he's creative with words, but has he met Nigerian Yahoo Boys? Shakespeare himself would have begged them to teach him how they use words. You don't believe us? Here are 18 carefully selected Yahoo Boy quotes. The aim is to motivate you, but if you are not a Yahoo Boy, we doubt if you'll get any motivation. But read first. You never know what might happen.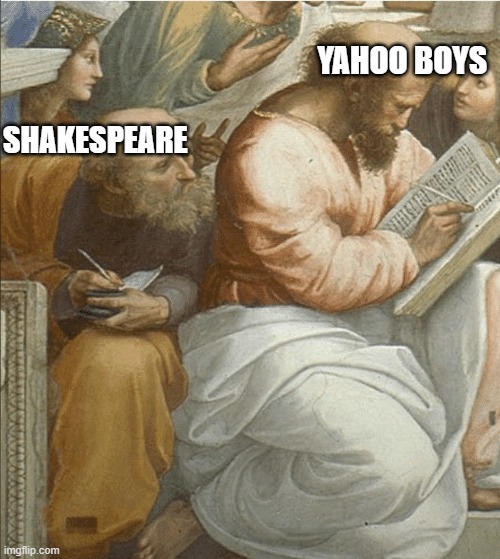 1. "When I dey hustle for glory, you been dey toast glory."
2. "Traffic wey dey vex driver na im dey give gala seller joy, no dey whine grace."
3. "No throway your garri say your neighbour dey cook rice. Him gas fit finish."
4. "Who give up fuck up."
5. "Situations be small but principles be heavy."
6. "You dey use envy look am, na why e be like show off."
7. "I just wanna make mama proud."
8. "If you want yeye for this life, depend on person."
9. "Many juju dey but na Baba God dey run our own."
10. "Rain wey beat us today go wash our Benz tomorrow. Aje!"
11. "Give your guys update, one person no dey do convoy."
12. "Battery wey full go still low, battery wey low go still full. Our prayer be say make charger no spoil."
13. "Hot water wey dey make egg strong dey make yam soft. Be humble."
14. "They only see the champagne, they can't see the champ's pain."
15. "Trust the process. Even traffic light go red before green go show."
16. "Who soak garri for morning fit chop jollof rice for night. Everything na grace."
17. "E no sure for anybody, na grace."
18. "Person wey no open door for us, we go still come back buy the whole building. Aje."
---
Read next:
Help Zikoko keep making the content you love
More than ever, people are turning to Zikoko for stories that matter and content they love. But still, we, like many media organisations, are feeling the financial heat of these times. If you find us valuable, please make a contribution to help keep Zikoko zikoko-ing.
Thank you for your support.
We are also cool with Crypto.