It's pretty common to have unrealistic expectations about how your first time having sex will turn out. Thanks to movies and books, many hope for something magical and earth-shattering, but that's rarely ever the case.
So, we asked 7 Nigerians to share with us how their first times went — juxtaposing expectation with reality. From panic attacks to performance anxiety, their stories are varied and real.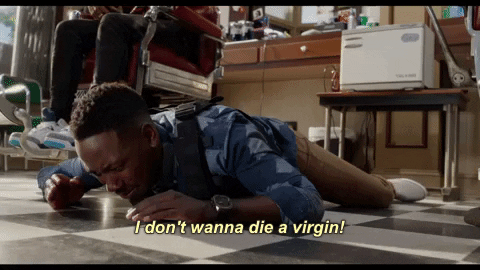 Demola, 29/Male/Bisexual
Since I didn't know I was bisexual until I turned 16, I spent most of my teenage years expecting my first time to be with a woman. In my head, it was going to be really sexy and romantic.
My first time was neither of those things. I was 17 and it was with a guy I met on Facebook. It was terribly awkward. I was so nervous that I could barely maintain an erection, and when I finally did, I came in seconds.
Tomisin, 25/Female/Bisexual
TW: This story contains distressing information. Reader's discretion is advised.
Growing up, I hoped my first time would be mind-blowing. It wasn't at all. I told my boyfriend at the time that I wasn't ready to have sex. I made it clear that only making out was on the table.
After dating for 9months, he said he was no longer sure I was a virgin. So, he locked me in his room one night, refusing to let me leave until he "confirmed" that I was a virgin.
I had a curfew and a strict mum, so I just gave in. It was painful and he wasn't gentle. At the time, I didn't know I'd been raped. After everything, the asshole still accused me of lying because there wasn't blood.
John, 29/Male/Straight
I never really thought about having sex until it happened. There were times I was presented with the opportunity, but I was scared. I liked blowjobs and breast, but the vagina scared me.
When I was 16, my friend took me to a brothel and told a babe to take me up. I'd been drinking all day, so when she spread her legs and I saw my first vagina, I puked all over her. We obviously didn't have sex after that.
I finally did it when I was 20. It was with a babe I'd been dating and I tried to avoid eye contact with her vagina. It actually felt really great, until she randomly said "I am giving you everything, if you leave me I'll kill you"
I freaked out and stopped. She tried to get me to continue, but I was already too weirded out. She then claimed I'd turned her into a whore, got dressed and left. The whole thing was just a messy first experience.
Dami, 22/Female/Straight
I'm not quite sure how I hoped my first time would turn out, but I knew I didn't want it to be uncomfortable. At 19, most of my friends had already had sex, and their stories were horrifying.
I also knew I didn't want it to be with a random person. I didn't need it to be with a boyfriend, just someone I was comfortable with. I was prepared to wait however long for that, and that's what I did.
When it finally happened, it was really good, but that wasn't even the best part. That came days later when he asked me about the experience. He made me feel comfortable enough to talk about it without shame or guilt.
Simon, 22/Male/ Gay
I grew up on Disney and romance novels, so I expected my first time to be magical. I also assumed that whoever I had my first time with would always be special to me Now, I have him blocked because he kept calling me.
I was 15 when it happened, and it was meh. It hurt. It was extra annoying because the guy had been going on and on about his sexual prowess. He was 19, so I believed him. I just ended up laying there until it was over.
Deola, 24/Female/Lesbian
I knew from a pretty young age that I was attracted to only women, but I still struggled with fully accepting that part of myself. So, I was never able to really imagine myself having sex with a woman.
It eventually happened when I was 17. It was with a friend, and it was awful. I worked myself up so much that I ended up having a panic attack while she was going down on me. Thankfully, she was very understanding.
Chidi, 27/Male/Straight
I wasn't a particularly horny teenager, so I had never really thought about how I wanted my first time to be. So much so that when it finally happened, I was completely unprepared and had no clue what to expect.
It happened when I turned 19. My girlfriend at the time had just broken up with me, so I was at a party I was hosting getting sad drunk. A friend found me alone in my room, comforted me and left to call my ex.
A few hours later, she turned up. We hashed out our issues, apologised and she just climbed on top of me. She was a virgin too, so it hurt her, but she kept going until she couldn't anymore. We tried again that night, and it was wild.
---
If you would like to read more Sex Life stories, you can click right here.