As the name implies, sexting primarily involves the exchange of sexually explicit messages, photographs and/or videos. It's a pretty common practice that has its fair share of haters and fans.
So, we decided to ask a bunch of Nigerians how they really feel about sexting. From those who find it unbearably awkward to those who find it essential, here are 7 of the best answers we got.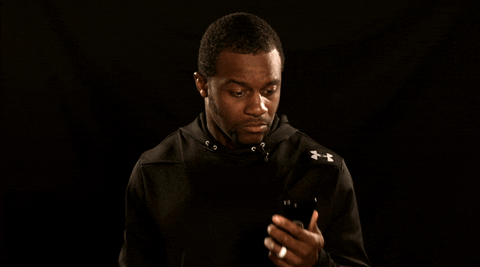 David, 25/Male/Straight
I don't get sexting at all. I think it's one of the most awkward and dishonest things humans invented, and I cannot wrap my head around anyone getting genuinely turned on by it.
The pandemic forced me to try it with one of my fuck buddies and I hated every second of the sham. Immediately she typed, "I wish your big dick was inside me right now", my mood just died.
Look, my dick is not small, but it's definitely not big either. We've been fucking for months, so she knows this. Why did she have to lie? I know I sound insane, but it just turned me off. Never again.
Ada, 22/Female/Bisexual
God, I hate sexting. What are we? 15? Who does it benefit? Surely, you're aware I'm not really wearing sexy lingerie, and I refuse to believe that the thought of me nibbling on your ear actually gets you off.
I think it's just one of those things we should all leave in our teens, please. When I'm horny I'll just send you a boob pic, and if you're a serious person, you can come over for the real thing. 
It just seems so tedious. I could be meeting a deadline with all these words I'm wasting on you. If I wanted to use my imagination, I'd just read some intense erotica and call it a day. 
Tosin, 25/Male/Straight
I only sext with people I have access to. If we can't meet in person to fuck, then it's a waste of time. Like, why am I sexting someone in Canada all the way from Nigeria? To what end?
Even then, I never initiate it. I don't love it or hate it; I'm just indifferent. Sometimes it just gets you unnecessarily horny, but other times, you're already horny, so it helps get you off.
Erica, 21/Female/Straight
I enjoy sexting sometimes, but I mostly hate it. Granted, it makes me horny, but it always ends up becoming unintentionally hilarious. I also hate that even when I'm over it, I have to keep going for the guy's sake. 
Sexting for me usually involves sending thirst traps and telling them what I'd like us to do to each other. The guys usually ask me to touch myself, but it's so awkward over text.
Some of them ask for videos of me touching myself, but I rarely send that. They even start telling me to imagine them doing some things to me and that always just makes me burst out laughing. 
I actually used to sext a lot before, but not so much anymore. I try my best to avoid it now, especially because it always leads to men relentlessly pressuring me for sex.
James, 26/Male/Gay
While there's the legitimate fear that someone will be stupid and screenshot the messages, I actually really enjoy sexting. With the right person, I think it is fantastic.
I have a very active imagination and I love when someone I like indulges it. Sexting is really great for building hype, especially if we plan to hook up in person soon. Lowkey, it also helps me blow off steam.
Sexting for me involves nudes, videos, a lot of stories about dreams, fantasies and what we want to do to each other. Ultimately, it's a super intimate exercise, and I'm constantly craving intimacy.
Sarah, 27/Female/Bisexual
I haven't done it in a while because my current partner isn't into it, but I'm a big fan of sexting. If the person on the receiving end likes it and actually does it well too, then it can be really fun.
For me, sexting includes exchanging nudes, pictures of toys, thirsty statements, desires and fantasies, masturbation videos, cum pictures and anything else we can come up with.
Nonso, 22/Male/Bisexual
I think sexting is fun, but I don't find it sexually gratifying. It's more of a feeling of accomplishment because most of the people I've sexted have gotten orgasms from it.
It's also a great bonding experience. Even when I exchange nudes, I don't do it because I want to masturbate; I do it because I think seeing someone in their most vulnerable state is very intimate.
It's something I actually started doing fairly recently. I was never really into it because it felt fake and forced, but apparently I'm quite good at it. Maybe the lockdown sharpened my creativity or just made me hornier.
I never use boring lines like, "What are you wearing?", cause that's some cringey 30+ shit. I usually spell out my fantasies in vivid detail. I also try to be spontaneous, and I never repeat nudes or fantasy scenarios.