For many young Nigerians, investing is a very treacherous undertaking. Between the tanking economy and growing responsibilities, you might find it nearly impossible to set money aside for investing. I mean, things are so bad, Shoprite is shuttering operations after 15 years. No, I'm not crying.
Back to the topic. Investing is certainly a great way to grow your finances. While saving money is nice and all, investing is a much better way to increase your wealth. One of the reasons for this is compounding.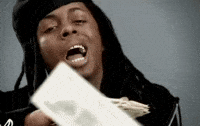 Compound That Monayyy
Compounding interest basically means earning interest on your interest. Let's say you invest N50,000 in government treasury bills with an interest rate of 18% per year. If you decide to reinvest your original investment and all the interest you acquire, you will receive N114,387 at the end of 5 years.
Let's assume you decide to be disciplined and continue reinvesting your principal and interest. At the end of 10 years, you will have earned 261,691.78. While this might not seem like a lot of money, it is a great way to let your money make money for you. If you add this to the fact that investing in government treasury bills is one of the safest ways to secure your funds, you really have nothing to lose.
If you're like the average Nigerian, you probably just set aside money for saving rather than investing. The rest is for balling. However, investing should be separate from saving. Saving is great so that you have a stash of cash for emergencies and other expenses. However, you should invest to grow your entire financial profile.
No, Seriously, You Should Invest
You should keep in mind that the reason for investing isn't necessarily to become rich but to create a financial safety net for yourself. At some point, due to any reason, you might/will stop working. Having an investment portfolio is a great way to secure your future against what Nigeria tends to do to your personal finances.
You're probably confused about how to start investing. Don't worry. You know Zikoko always has your back. Read What Are The Investment Options For Young Nigerians? – We Asked An Expert.