In most cultures, Nigeria included, the responsibility of initiating interaction between two people in a prospective heterosexual relationship usually rests on the man. But what happens when women take the lead and make the first move? We spoke to four men who tell us about how their women shot their shot.
Sadiq
We met while I was in uni when I had to settle a dispute between her and her class rep. She spoke so well but I didn't think much of it. We exchanged numbers after we resolved the conflict and kept in touch.
During the Student Union Government elections, she somehow found a shirt that I had lent to a mutual friend and asked me to come to pick it up at her place. That evening, she made yam and egg stew and I left without collecting my shirt. We started talking more frequently after. She'd come to check on me and talk for hours. She'd also send me food and airtime. I was having a great time with her.
On my birthday, she took me to a mini-mart, bought me drinks and a cake and she took me to her place and we had our own private party. She told me she liked me in a way she couldn't explain. She told me she wanted me in her life as her backbone. That was how we started dating.
Tunde
On my birthday, a mutual friend posted my picture and tagged me. She slid into my DMs and wished me a happy birthday and asked for her birthday cake. I wasn't seeing anyone at the time so I gave her the green light. It's been a beautiful relationship and I've loved her even more since then. She'll never agree that she's the one who moved to me. The same way she doesn't want to accept that I love her even more.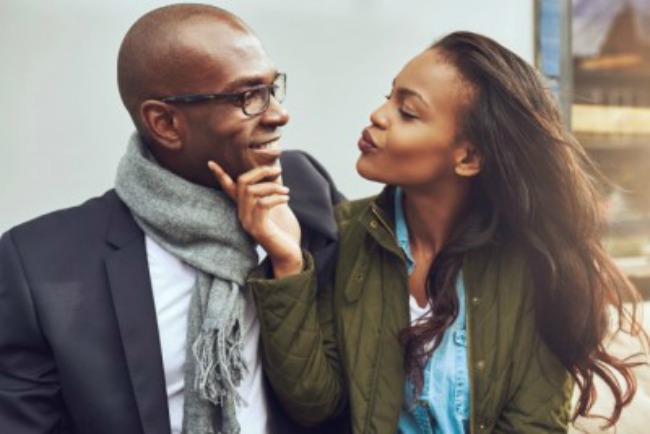 Uche
We had been talking for a couple of months before she asked me out. I felt great because she's smart, beautiful and I'm incredibly attracted to her. She matches my energy and we vibe perfectly. However, she lives in the North while I'm in the East so I turned her down the first time.
Then she got a boyfriend and she'd rub it in my face any chance she for. We stopped talking for a bit. When we reconnected, she asked me out again and I had no excuses to give. It was obvious we wanted each other very much. Even though distance ended up being an issue, we've been together for more than a year. I'll see her again in January and I can't wait.
Tony
I met this girl at my workplace. She usually gave me a ride on her way home and dropped me at her stop. She asked me out on a date and it was the best date I had ever had. I found out that she had just gotten out of a relationship, just like me. Because we worked in separate shifts, she'd bring me food. We even once went on a weekend getaway to a hotel and made great love all through.
Two weeks later, a new guy resumed at the office and she started getting closer to him. I noticed that she started picking fights with me and soon after, the relationship died. I still don't know if we broke up because of the guy. Maybe one day, I'll know the truth.