People usually think skincare is feminine and a very stressful thing to do. Thing is, everybody should take care of their skin. And there are a few basic things you can do to make your skin healthier.
1. Do NOT use the same towel you use on your body on your face
The same towel you used to clean your armpit, ass crack and balls is what you want to put on your face? If you don't fear your face, at least fear God.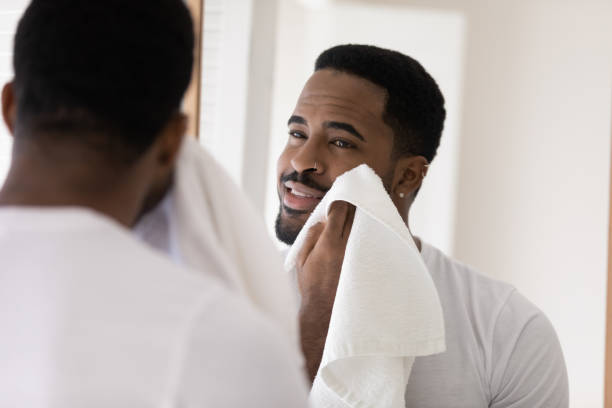 2. Don't wash your face with sponge, I beg you in the name of God
Is it jeans that is on your face? Why are you using a sponge to scrub it like it's a carpet? Pls, only use soap and your hands on your face, it's enough.
3. Invest in a cleanser and toner
A simple cleanse, moisturize and protect with sunscreen, would save your skin from looking like you just came back from war. If you're feeling little extra, you can add a hydrating or soothing toner. Let your skin start popping.
4. Don't pick at your pimples
Sorry o. Dr. Pimple Popper. Any small pimple, you'll start pressing it like it's owing you money. Stop it. Let it go. You're just adding more bacteria to your face and might even leave permanent scars on your face. Exercise patience, my g. 
5. Stop touching your face all the damn time
Think about your day. You'll touch phones, germs. Touch table, germs. Touch laptop, germs. Touch surfaces that people who haven't washed their hands in 2 days. You'll now carry that hand and touch your face. Haba. Have mercy on your poor face, which is the most sensitive skin on your body. Make a habit of not touching your face, make bad skin no touch you. If you have to, wash your hands first.
6. Always. Moisturize. Your. Lips
Your lips are like the third thing people notice on you, so it's best to keep them healthy and fresh. Drink lots of water and always have a lip balm handy to apply on your lips, especially if you smoke. Don't let your lips look like you use them to sweep.
7. Moisturise ALL of your body
We know you've done it before. You'll think "Nobody can see this place, cloth has covered it, so no need to cream." No, bro. Wherever your hand can reach, cream it. So that when you bend over in public to tie your shoelace, you won't assault everybody with an ashy buttcrack.
8. Chief, oil your beard
Your beard deserves some love too. It's not everytime your beard will look dry or like it's about to turn to dreadlocks. Use oil like castor, argan oil, jojoba oil and watch your beard starts looking luscious.