The woman described in Proverbs 31 is the ideal woman many men expect women to be. And it's interesting how men are quick to say they are looking for a Proverbs 31 woman when they themselves are far from being a Proverbs 31 man.
Who is a Proverbs 31 man?
Ah, I knew you'd ask. Well, we formed him from the ribs of the Proverbs 31 woman. Here are the characteristics of the Proverbs 31 man.
Enjoy (and apply to your lives).
Epilogue: The Husband of Noble Character
10
An excellent man [one who is spiritual, capable, intelligent, and virtuous], who is she who can find him?
His value is more precious than diamonds and his worth is far above bitcoin or ethereum.
11
The heart of his wife trusts in him [with secure confidence because she knows he dares not cheat or disrespect her],
And she will have no reason to be put to shame.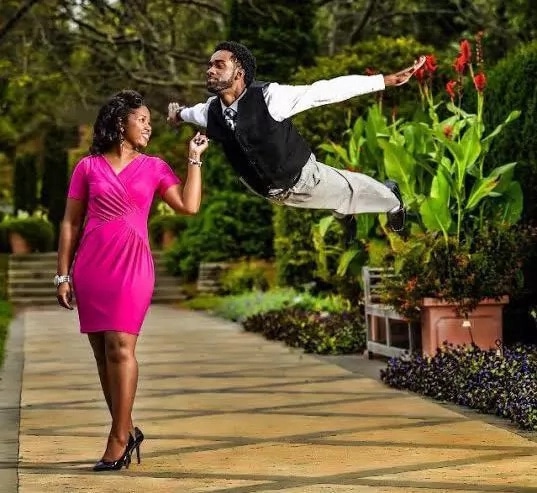 12
He comforts, encourages, and does his wife only good and not evil
All the days of his life.
13
He looks for wool and flax serious money [because money answereth all things]
And works with willing hands in delight [without being forced, or cajoled or offered sex as a bait].
14
He is like the Igbo man's container [abounding with treasure];
He brings his [household's] food from far away.
15
He rises also while it is still night [while his wife sleeps in their King size bed, AC blowing her like there's no tomorrow]
And gives food to his household
And assigns tasks to his houseboys [should he even have houseboys sef?]
16
He considers a land before he buys or accepts it [expanding his business prudently—look at Dangote, Otedola and Mike Adenuga. Do they have two heads?];
With his profits, he plants fruitful vines in her vineyard [buys expensive things for his wife and children and flies them abroad on a steady].
17
He equips himself with strength [spiritual, mental, and physical fitness for his God-given task as a husband, a shield, a menial worker ready to take on the burden of his family]
And he makes his arms strong [not just by going to the gym, because biceps without money to back it up is a sheer waste of time and energy].

18
He [shines his eyes and] sees that his gain is good;
His lamp generator does not go out, but it burns continually through the night [he is prepared for whatever lies ahead—PHCN wahala, outrageous bills, cost of fuel].
19
He stretches out his hands to [business partners],
And his hands hold fast [as he spins wool into thread for clothing signs contract after contract].
20
He opens and extends his hand to the poor,
And he reaches out his filled hands to the needy.
21
He does not fear the snow [Harmattan] for his household,
For all in his household are clothed in [expensive] scarlet [wool].
22
He makes for himself coverlets, cushions, and rugs of tapestry [and if he cannot make it, let him buy it with the money he is making].
His clothing is linen, pure and fine, and purple [wool]. [There are a number of designer brands he can consider too].
23
His wife is known in the [city's] gates,
When she sits among the elders [other happening babes and women] of the land.
24
He makes [fine] linen garments and sells them [and if he's not into selling clothes, there are a number of trades he can consider];
And supplies sashes to the merchants.
25
Strength and dignity are his clothing and his position is strong and secure;
And he smiles at the future [knowing that he and his family are prepared to japa to Canada when Nigeria gets worse, which it will].

26
He opens his mouth in [skillful and godly] wisdom [and he doesn't jamtalk or chook mouth in women's business],
And the teaching of kindness is on his tongue [giving counsel and instruction].
27
He looks well to how things go in his household [not that they will have to be reminding him every time],
And does not eat the bread of idleness.
28
His children rise up and call him blessed (happy, prosperous, to be admired);
His wife also, and she praises him, saying,
29
"Many men have done nobly, and well [with the strength of character that is steadfast in goodness],
But you excel them all, olowo ori mi [or dim, if she's Igbo]."
30
Bear-bear and six packs are deceptive, and [superficial] handsomeness is vain,
But a man who fears the Lord [reverently worshiping, obeying, serving, and trusting Him with awe-filled respect], he shall be praised.
31
Give him of the product of his hands,
And let his own works [that is, his wife's beauty and expensive taste, his foreign-educated children, his fine house and plenty cars, his diligence and uprightness] praise him in the gates [of the city].
Amen somebody?