Want to know the mama that runs the church? From her iconic strut to her searing look, here's a 16-step guide on how to spot the first lady in a Nigerian church from a mile away.
1. How she walks into the service:
She has arrived!
2. The type of hats she wears to church:
The bigger the better.
3. How she and the head of the women's group looks at the choir when they sound off:
Can you imagine?
4. When she says, "Can I have a few more minutes?"
You're going to be there for like one hour.
5. How she looks on the days she is coming to address the "youth":
Funky mama!
6. How she answers when you greet her:
Okay oh!
7. The look she gives you when you walk past her without greeting:
Don't you value your life?
8. Her reaction to everything:
As a holy mama!
9. When the pastor cracks a joke, she's like:
If nobody will laugh for her husband, she will laugh.
10. When she agrees with a point the preacher has made.
"That's a real word right there."
11. How she catches the Holy Spirit!
Hallelujah!
13. When she sees something she doesn't like.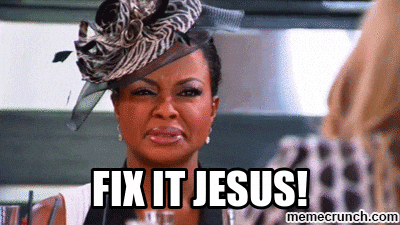 Jesus is the master key.
14. How your parents greet her even though they are older:
"Ah mummy good morning!"
15. How she drops the microphone when the ushers are wasting time and she's ready to leave the stage:
Mama waits for no one!
16. How she and her association of scary church aunties roll through:
She did not come to play with you heathens. She came to pray!