Since COVID-19 hit Nigeria, a lot of corps members have been affected. Some were sent back home without completing the orientation camp, and those already serving were asked to stay at home. In this post, we spoke to 6 corps members in different states on how they are surviving this Coronavirus period.
Hamdalat, Corper in Kano state.
My family lives in Osun state. When it was confirmed that COVID was in Nigeria, I wanted to travel, but I considered a number of things. First of all, the distance: Kano is about 18 to 19 hours to Osun state. The journey is not a child's play. And then the transportation fare. If I decide to travel, I will roughly #17,000 to and fro excluding feeding expenses.
Besides, I feel it's more dangerous to travel during a period like this because you don't know the medical records of other passengers that will be in the vehicle. One might actually get infected in the vehicle if care is not taken.
What then happens if I become infected? And I'll be mingling with my family which might spread the disease further. So I decided to stay back.
It has not been easy though. Especially if you consider the situation of things in Kano right now. These days, I go out once in six days to buy water, pepper and other essential items. Each time I go out, I make sure I'm obeying all the basic rules of hygiene. I try as much as possible to avoid physical contact too. When I'm bored, I turn to my phone for gist. There is no greater gist partner.
Rachael, corper in Ogun state.
My whole family is in Lagos, but I haven't gone home since January. Ogun state is very peaceful and I like it here. Food is not a problem. Even my parents send money to get food stuffs for them via bus. Besides, by staying back here, my respect is intact. Nigerian can frustrate you and as I am like this, I am not ready for that.
I own a sewing machine and it has been a reliable source of income for me. There are so many guys in this area who like to do big boys. They always meet me to slim-fit clothes and I charge #300 per cloth piece, something that I don't spend more than 10 mins on each adjustment. In one day, I can do 20 of such jobs. Calculate that. I also coach about 4 kids on my street. Another source of extra cash. I haven't touched my allowee in a long time.
I miss my family, but life happens and we all must learn how to cope. In my four years of university, I visited home only four times, so I think I can withstand not seeing them for a longer period. We video chat regularly, though. That's one way I'm keeping up with them.
One thing I'm concerned about right now is that NYSC should not call us back. Me I won't answer. They should keep paying, sha. That money is necessary. When it's time for Passing Out Parade, they should let us do it online. No more no less.
16 Ways To Make Money During Your NYSC Year
Oyeniyi, corper in Zamfara state.
I intentionally chose to stay back in Zamfara. Lagos is really hit by the pandemic and the Lockdown is heavy there. If I had traveled home, I would have been forced to sit at home all day, and I can't afford to do that. But here in Zamfara State, movement continues though work has since stopped. I can cope with that.
It's boring though; many of my friends have travelled so there is no possibility of hanging out or anything. Instead, I read, surf the internet and work on my system. I miss CDS. I miss our discussions and presentations. I can't wait for the world to return to normal.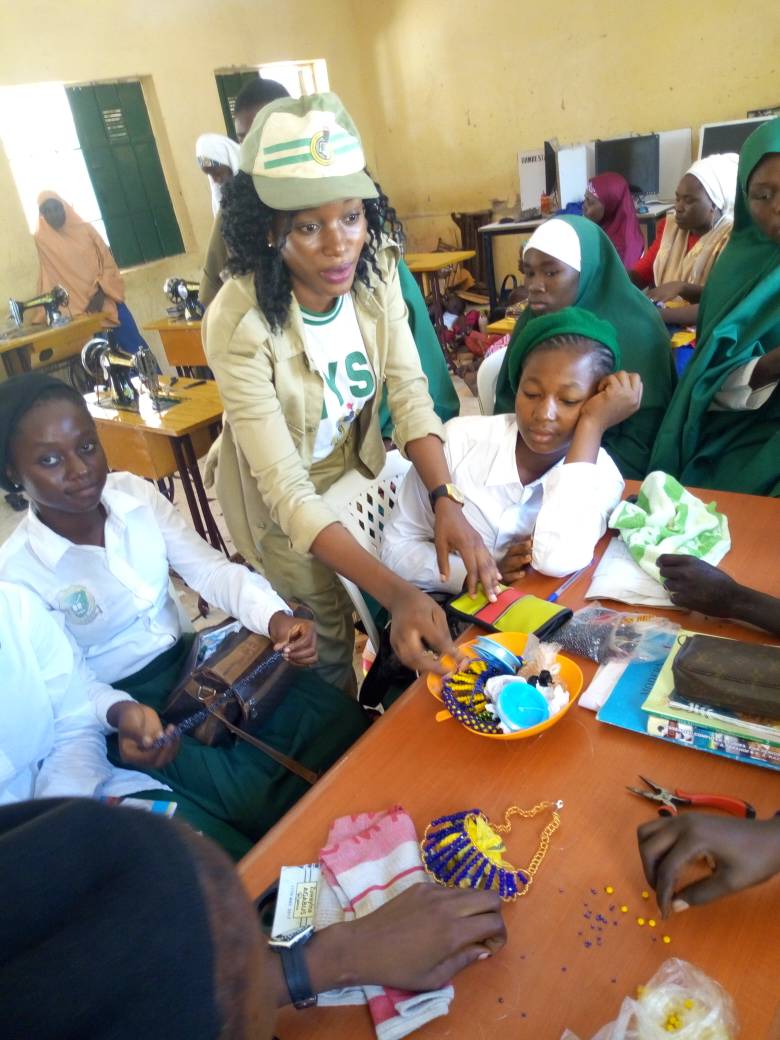 Ezinne, corper in Niger state.
I was initially posted to Ekiti, but I am married, so I redeployed to Niger state, which is where I'm based. Everything is quite normal here, but it is almost impossible to go out of the area, and things get more expensive by the day. For example, if you buy a mudu of rice for N500 today, expect it to be around N550 the next time you buy it.
I have a baby, and she takes most of my time, so I don't worry about being bored. I try to read a book sometimes, too. Because Niger state is home, I am around my family. My elder sister's street is not far from mine and she just gave birth, so I often go there. My mother is there with her too. She came for the naming ceremony and got held back by the lockdown. And then my twin younger sisters, are home from school, so it's all like a big family reunion. With all these people around, it's hard to do anything useful.
I really want to go back to work. Staying at home without doing anything is strange for me. Plus, I feel somehow getting paid for doing nothing. I hope this thing of 'an idle mind is the devil's workshop' does not happen.
Jonathan, corper in Ekiti state.
Before the Coronavirus pandemic, I had been planning to organize tutorials for students here. But I kept holding back, because I had doubts about the whole thing. When Corona happened and everything went on hold, I decided not travel home to Ogun state. Ekiti has reduced number of cases, compared to Lagos. It is safer here, and I chose the safer option.
When I realized that things are not showing signs of being reduced anytime soon, I decided to organize the lessons I had been planning to. Right now, it is the third week, and I must say it is very profitable. I charge N50 – N100 daily, and we start by 9AM and end by 12PM. As at today, we have realized about N10,000. COVID-19 makes it easy for parents to take it seriously; besides, they need a way to keep their children occupied in this period.
Asides the lessons, I am trying to study binary and bitcoins. When I am not doing my studying, I sleep.
Sofiat, corper in Rivers state.
If I had known that things would turn out this way, I would have traveled home to Kwara since. In Port Harcourt, the border is closed, so nobody can travel. Lockdown is also in effect, so it's like double wahala. And then the governor is acting like a dictator. Everybody is living in fear. You dare not step out anyhow. Once they catch you, it is straight to the isolation centre. A few days ago, he demolished two hotels for not adhering to the lockdown order. It has not been funny at all. Nobody can say anything or confront him.
Food stuff has become very expensive. 10 pieces of tomatoes for N500. Even garri has become gold. The least amount you get plantain for is N400. And it's not the big size. Very tiny plantains.
As much as we can, my roommate and I try to stock up and minimize costs. We miss work, but what can we do. Thank God for Ramadan, it is the one way we are keeping sane. Everyday, we seek Allah's mercy on the world at large. We hope things go back to normal soon.
NB: Pictures used for illustrative purposes only.
---
Hello! Thanks for reading, as always. We are trying to create more NYSC posts for you, and we would like it very much if you can take one minute to fill this form: NYSC SURVEY. It would help us to know the kind of things you'd like to read. Thank you!