Last week, we reported that Vice President Yemi Osinbajo, acting as head of the Economic Sustainability Committee (ESC) recommended that NYSC camps be suspended for two years. This came after NYSC submitted a proposal to reopen the camps and have Batch A, Stream 1 corps members return.
Here's an update.
Twitter user @ManLikeIcey, tweeted this document yesterday with the caption 'NYSC set to re open.'
NYSC set to re open. pic.twitter.com/1R5QrY7ZSk

— OTUNBA (@ManLikeIcey) June 23, 2020
The file attached is a 3-page circular titled ANTICIPATORY PREPARATIONS FOR THE RESUMPTION OF ORIENTATION COURSE. The document lists NYSC preparations and new guidelines for reopening the orientation camp and welcoming back the Batch A, Stream 1 corps members who were sent home as a means of curbing the spread of the virus.
The document is dated 23rd of June, which means it is a recent document. Some of the strategies listed in it are:
PRE-ORIENTATION ACTIVITIES:
Decontamination of habitable areas. This is in addition to strict observance of physical distancing, regular handwashing, avoidance of face touching and sensitisation of all members of the camp community on cough etiquette and how to use face masks.
Beds will be rearranged with two-meter spacing.
Temperature testing before anyone is allowed entry into the camp.
Reduction of the numbers of corps members who will participate in each orientation exercise.
Registration period will be extended so as to manage the crowd.
IN-CAMP ACTIVITIES:
Restriction of movement will be enforced; only essential personnel will be allowed.
Compulsory use of face masks.
Introduction of e-learning for some lectures in camp: lectures will be cut down to accommodate only essential ones. Others will be held virtually.
Hand washing stands and hand sanitisers will be made available at various points in camp.
There must be strict adherence to social distancing in all camp activities.
Service points will be available in camp for activities where corps members are expected to queue. E.g: Registration, kit collection, meal collection, payment of allowance.
These are what is contained in the document. The NYSC website does not have any update on this new development. As we find out more, we will update you.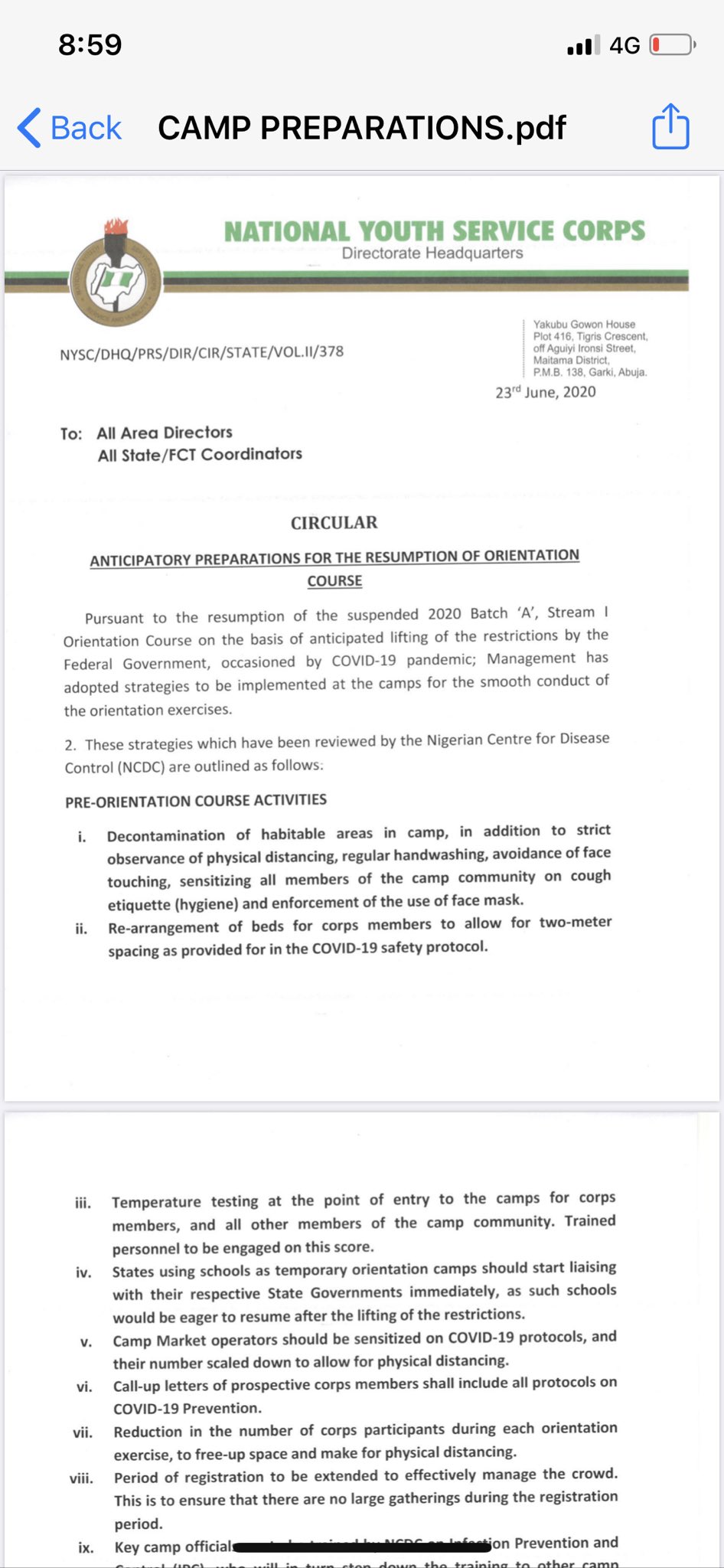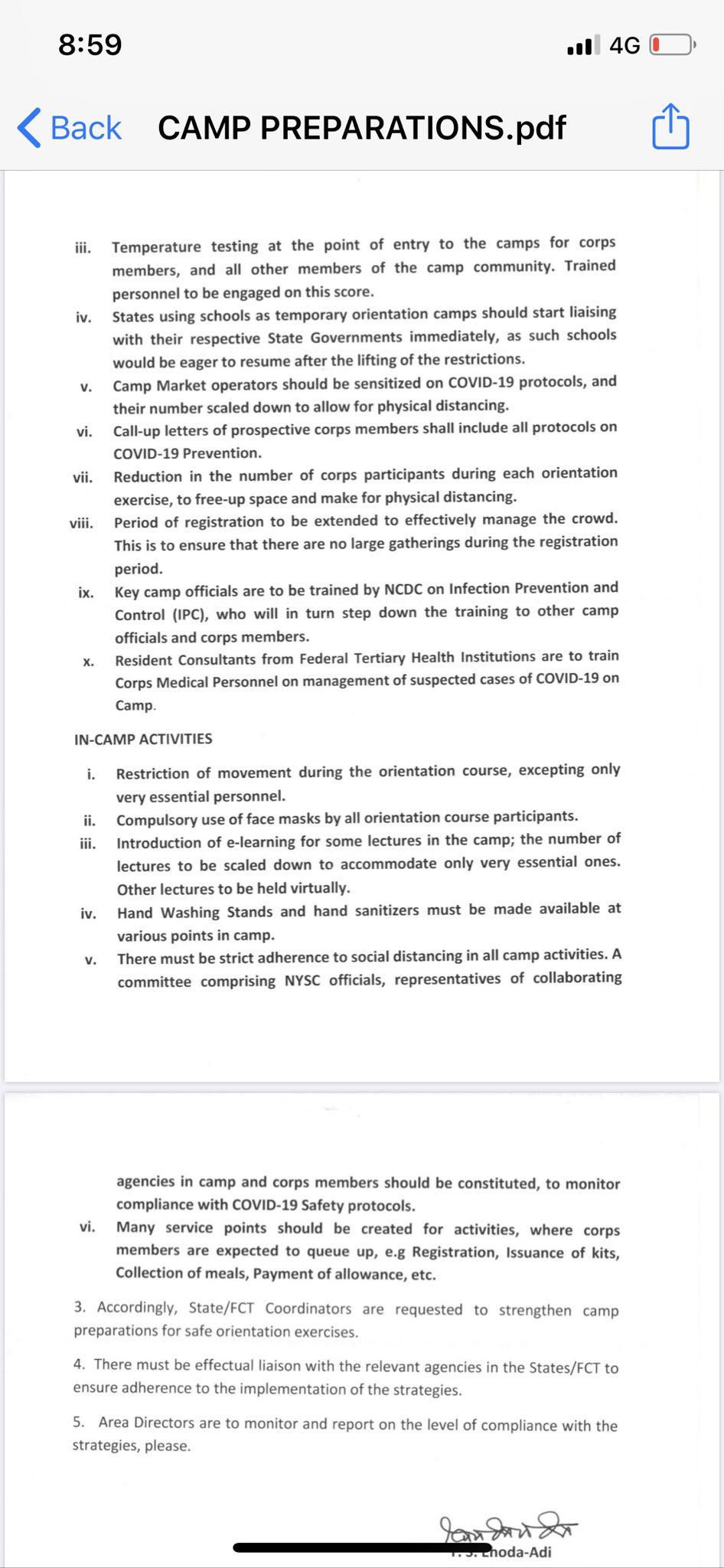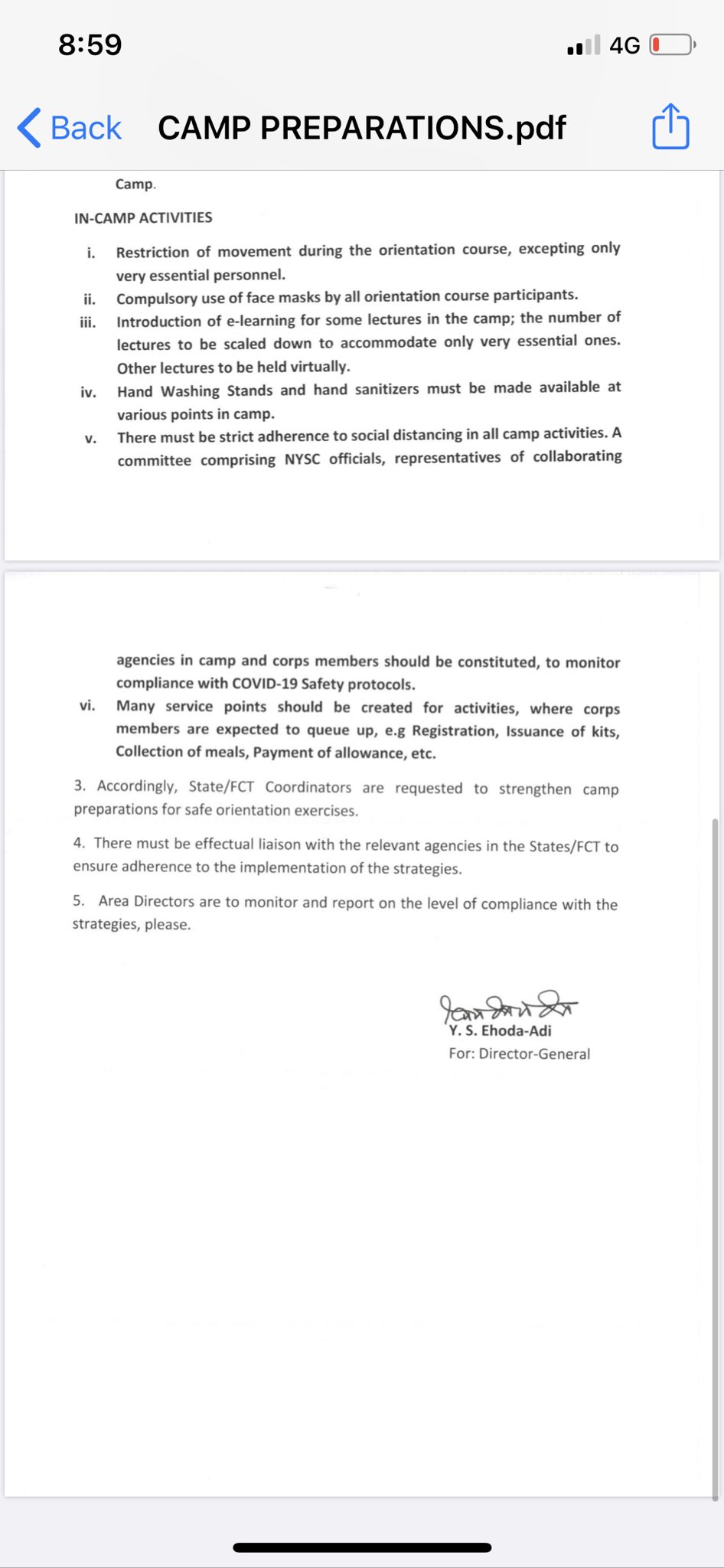 ---
Hello there! Thank you so much for always reading. Are there topics you'd like us to write about? Do you have any NYSC-related questions you want us to answer? Send us an email kunle@bigcabal.com We look forward to hearing from you. Xx