Getting inked is a cool thing, we agree. But getting a tattoo in this Nigeria can be a scary endeavour. Especially if it's a permanent tattoo. Yes, the common warning is that you should avoid Ikeja Under Bridge tattooists, but that's not all. This list will tell you more.
1. Never ever tattoo a celebrity on your body.
Or your current partner for that matter. The thing is this: what will happen if it ends in tears? And then again, the tattooists might never get it right. They can give you a Davido that looks like Shatta Bandle. You don't believe us? Maybe this picture will convince you.
Is that Psalms 27 on his arm?
2. Bear in mind that a conspicuous tattoo makes you a target market for SARS and Nigerian police.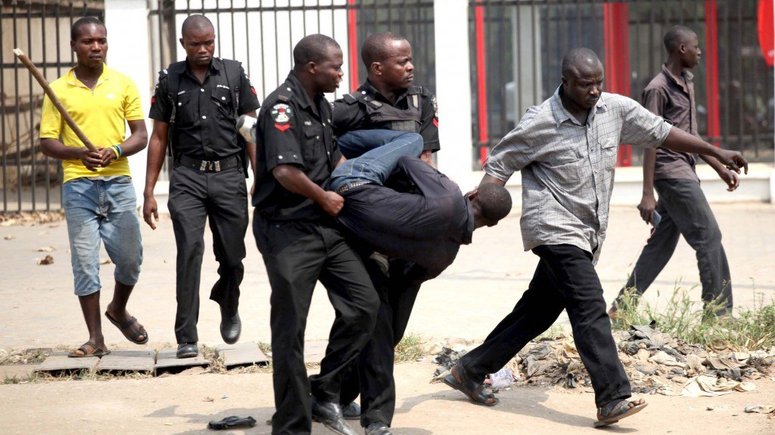 It's a sad reality but it's true. So if you choose to get a tattoo, also prepare your Canadian visa too. Otherwise, e be things.
3. Please and please, make sure your tattooist can spell.
Ask them to spell apple, cucumber, hippopotamus, encyclopaedia. Ask them to recite the letters of the English alphabet. If they get everything correctly, then you can surrender your body to be inked. Or else this might happen.
Being Nigerian is a mistake on its own, not to now add a permanent error on your skin.
4. After getting your tattoo, prepare to be asked silly questions by people.
"Are you a cultist?" "Are you of the devil?" "Don't you know it's a sin?" "What did your parents say?" "Are you a runs girl?" "Do you plan to erase it anytime soon?" "You must be a Yahoo boy."
In Nigeria, other people's business is our business. You should know this by now.
5. Whatever you do, AVOID the guys at Ikeja Under Bridge.
We will not stop saying this. Avoid them o. Don't mind their prices, even if they say three tattoos for seven hundred naira with free pink lips as an added bonus. Dearest, flee them.
We have said our own. Cheers to getting inked.
The 10 Stages Of Getting Your First Tattoo
This video of Burna Boy talking about his tattoos is enough inspiration.