In case you don't know, dating apps in these parts of the world are for everything except finding love. On an average day in the deep trenches of apps like Tinder, you're bound to stumble across different types of…candidates for your love. Read on to find out the different types of people you can find on dating apps in Nigeria. Maybe you'll discover yourself in one of them.
The Sex Workers
These people are on dating platforms for one single reason: find customers. You'll find them with bios like "mature minds only", "hookups only."
The Creeps
You can easily find out who the creep is from their profile photos. Probably taken from a lower angle, like an African parent, giving you a nice view of his nostril hair. They send you unsolicited dick pics, and tell you that you have a nice fisik.
The Scammers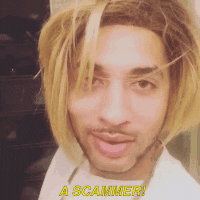 These ones are the most obvious set. I mean, why would anyone raise a brow at Samantha, a very white, very Caucasian woman at Abule-Egba, Lagos State, who is also coincidentally CEO at Unemployed.
The People Looking For Friendships
Not sure who spread the word about dating apps in Nigeria being for friendships, but I promise they are not. These people come here to look for friends and shun you judgingly when you discuss anything other than friendships. Ugh.
The Stalkers
Once you swipe right, these people have begun an in-depth investigative process into your case. Facebook, Twitter, Instagram, LinkedIn, MySpace, nowhere is safe. They already know your date of birth, middle name, favourite ice cream flavour and your mother's maiden name before you finish saying hi.
The People Looking For Marriage
These people lean a bit too hard on TInder's capabilities. Right off the bat, they already indicate in their bios that they want God-fearing, 30+, financially stable men only who must be ready for marriage. Right from the first text, they ask you how many kids you want and what their names are. Fear them.
If you enjoyed this, you'll definitely enjoy A Nigerian Woman's Guide To Dating Apps.