For creators, inspiration can be found in the most unexpected places. That's why we created #Watchlist — a series that asks Nigerian video directors to list the most interesting things that influenced their creative choices while shooting.
---
Following her game-changing record deal with Universal Music Group, Tiwa Savage came out with her first single of 2019, the Fela-inspired "49-99". As great as the song was, the Meji Alabi-directed video that accompanied it was even better.
So, as Tiwa recently visited Genius to explain the track's meaningful lyrics, we at Zikoko decided to do the same with Meji and the now-iconic clip. In great detail, the brilliant director thoughtfully breaks down how he made Tiwa's career-best video.
On main inspiration:
To put it simply: Africa. From the fashion to the hairstyles to the components of the scenes, I tried my best to keep things authentically African, while also making something an international audience could really appreciate.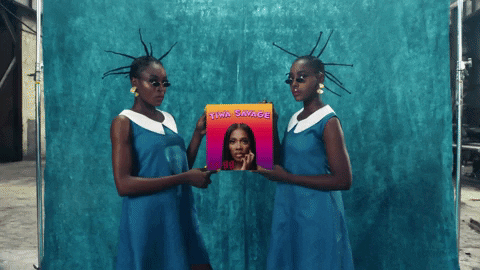 On intended narrative:
Overall, it's about African beauty and putting the strength of the African woman at the forefront, with Tiwa being the conduit. We're showing various walks of life through her — from a schoolgirl to a woman who commands the attention of fawning men.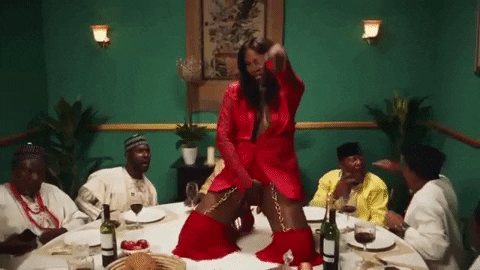 On visual references:
A member of Tiwa's creative team, Ibra Ake (Childish Gambino's "This Is America") had shared with me a mood board, and on it was Eliot Elisofon's decades-old picture of beautiful Congolese schoolgirls. Using a modern edge, I decided to bring that to life.
I also wanted to have some interaction between them, and that scene — which had all of them sewing together — was inspired by Donald Glover and Rihanna's movie, Guava Island, which showed girls working in a factory but also having a laugh.
As for the opening scene, I made her the queen of an underground Dambe betting ring. I just liked the idea the more I thought about it. I don't even know if there are "underground Dambe rings", but if there were and the leader was a woman, how cool would that be?
Eliot Elisofon's photographs of Congolese schoolgirls
Donald Glover's 'Guava Island'
Dambe Warriors
On performance references:
Skepta's "No Security" had him performing on the table as Pagans/Rothschilds ate and drank heartily around him. I thought to flip that on its head and have Tiwa perform on the table of chiefs. But instead of taking offence, they fawn over her like they all do in private.
For the Danfo scene, which had artwork inspired by Michael Umoudit, I got Tiwa to perform on top of it. This was quite precarious, because of the Kalakuta-styled dancers sprinkled around other buses. I'd have done this scene in a live Molue at night, but that wasn't logistically possible this time.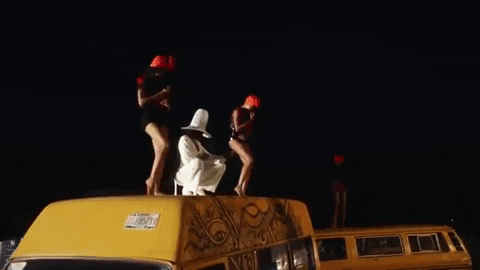 On casting and styling:
The song has a heavy reference to Versace — she opens the chorus with the line, "Mo fe ra versa/Mo fe ra Versace" — so that's where the Medusa scene came from, but in a bid to make it more African, I decided to use crazy long braids instead.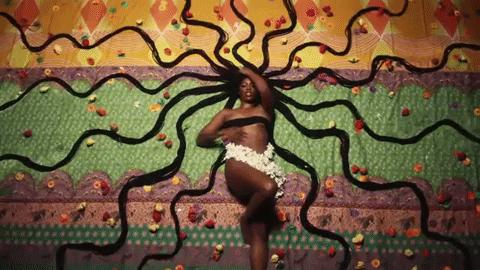 Inspired by a picture I pulled of Seun Kuti, the all-Black girl Okada gang is something that just doesn't happen in Lagos — so creating all these juxtapositions was something I really relished during the entire creative process.