In 2019, Christian Obi, popular as the "Igbo Wolf", made his first "official" Instagram skit. 
Before then, he just made videos for fun, sharing them with his "two followers on Instagram". But he soon got tired of making skits because his old LG mobile was barely holding on for life.
Two years later, in August 2021, he bought an iPhone and decided to start making video skits again. But he couldn't have imagined how ready the world was for his content. He went viral just two days after he bought the phone.
Inspired by a TikTok trend of Nollywood queen mothers, he recorded a video of his face with a mermaid underwater filter, reeling out threats to swimmers. The video was an instant hit. 
The natural thing to do would've been to ride on this popularity and milk the content style as much as possible, but Igbo Wolf didn't do that. He wasn't confident having not done comedy for a while. So he took a step back.
"With TikTok," he tells me. "You don't need to create original content." Since Tiktokers can remix other creators' content or just hop on trending sounds, he decided to hang around in that space for a while.
But one afternoon in early 2021, he remembered a former classmate in secondary school. The student, Kunle Ogunfowokan, had a teacher who always mispronounced his name with a deep Igbo intonation. Christian had an idea. He swiped to his Camera app and recorded a skit which would quickly become another internet sensation.
The idea was simple: take on an Igbo lecturer persona, who he named Professor Uwa (pronounced "Pro-fess-uu-wa") and do a roll call of Yoruba student names which had lewd or negative meanings in Igbo. But a mistake happened while shooting that would launch him into pop-culture relevance.
"When making videos, I don't like cutting and joining," Igbo Wolf says. "So I have to do everything right in one take." So while filming, after his Professor Uwa character listed out the Yoruba names, he forgot his lines at the end. But he needed a conclusion, so he said, "Dazz ya name?" on the spot and ended the video.
"It made me cringe," Igbo Wolf tells me, "And I wanted to remove it." But he eventually decided to let it stay anyway. "Instinct," He recalls. "I just said, 'let me leave it there.'"
When he posted the video on Twitter at 6:24 p.m. on September 21st, 2021, he didn't expect his line to become an internet meme. "The next morning, I started seeing, 'Dazz ya name' everywhere!"
It took him some time to remember that he'd even used the line, as he had to rewatch the video himself to see and hear it. To this day, he still doesn't understand why people like the phrase, but as long as it gets the people going, he's happy with it.
However, Igbo Wolf is not one to rest on his laurels. While he initially rode on its popularity, releasing viral video after video, he decided to retire the Professor Uwa character. His reason? He sees himself as an actor and wants to continue evolving.
---
Editor's pick: QUIZ: What Career Should You Actually Have?
---
And his broad portfolio of comic personas is a testament to his creative ability. Several more characters have hit the limelight. From the frowning Work Chris who's ironically always happy to go to work, to the toxic, uber-religious RonkeHR; his characters touch across relatable themes in Nigeria's youth culture.
When asked how he consistently hits the Nigerian youth cultural nerve, he admits that his characters are a reflection of his state of mind at the time he creates them. When people see comic characters living out their reality, they fuck with them. Take the "happy" Chris meme, for example.
In December 2021, Igbo Wolf's year-end holiday was restful. For the first time in a long while, he took a break from his product manager day job, hung out with friends, cooked, ate and played games. But when the time came to resume work on January 4th, 2022, he struggled to find the energy to get out of bed. When he finally got to the gate of his workplace, he turned and went into the restaurant opposite it to gather himself.
While there, he tweeted a selfie of him grimacing and captioned it "Work is such a fun adult activity especially after spending 2 weeks consistently getting drunk and eating". He returned to his office at around 11 a.m.
He continued taking selfies, captioning them in a similar way, until the end of January. "It wasn't just content for me," he says. "I was miserable, and [making those tweets] was my own way of dealing with stuff."
So when his first "Happy to be at work" tweet blew up in February, he felt dejected.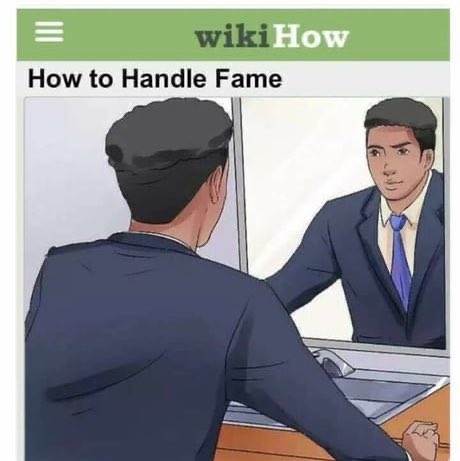 "It wasn't just Nigerians. There were other Africans and white people," he says. And when people started hailing his comedic prowess with compliments like, "Nigerian people understood the assignment", Igbo Wolf couldn't deal. "It wasn't even an assignment, to begin with. It was just my way of dealing with my state of mind, but now, I was content to these people? I felt like they had taken something away from me."
That day, he resolved not to post again. But the following morning, he experienced the same sadness that plagued him the day before, so he took another selfie and tweeted it, again with an ironic caption. More people could relate to his struggles and respond with selfies of their own tired, stressed faces with "happy to be at work" captions. Igbo Wolf had to get used to being a pop-culture trendsetter.
The turning point, he tells me, was when he attended an event and some guests were excited to meet him. The following Monday, he opened his Twitter DMs to see messages from some of the guests, telling him they were waiting for him to make his usual Monday morning tweet.
Other characters in his portfolio are just as relatable. Work Chris is the Nigerian youth who has to deal with toxic workplaces, Mama Elo is Elon Musk's mother reimagined as Nigerian and Professor Uwa is most Igbo lecturers who've found themselves teaching in a Yoruba town.
An interesting aspect of Igbo Wolf's skit-making is that he keeps the use of slapstick to the minimum and never employs exaggerated voiceovers or sound effects. "I hate them", he says. "Because I see myself as an actor." He does his best to get into character and lets his acting and mannerisms carry the humour. Also, he shoots his skits indoors when no one else is around, as he considers himself a shy, indoorsy person — a testament to his artist name which is a combination of his spirit animal (lone wolf) and his ethnicity (Igbo).
But Igbo Wolf is not afraid to deviate from his creative formula. He's constantly writing stories; the pressure to keep up with his popularity keeps him grounded. To hack productivity, he always has at least six skits banked.
When he's not producing viral content, he's working as a product manager in Lagos, a job that has inspired some of his most iconic videos. I asked him if going to work still causes him pain. His response? Not really. But in future, he hopes to get a remote work arrangement, so he has more time to create entertaining content and achieve a perfect balance between his day job and his content creator life.
---

Enjoyed this story? Why don't you read this next: Nigerian Creatives Who Got Big Breaks on Twitter.