Being a Nigerian receptionist isn't just about kitten heels and drab suits, you also need to learn how to treat everyone that walks into your office like trash. So, if you're interested in this occupation, here's a list of everything you'll need to know to excel at your job.
Be unnecessarily rude
Take a minute to think about the rudest person you've ever met, now multiply their attitude by 7. That's how rude you'll need to be to succeed as a Nigerian receptionist. Make sure you treat every single person that walks into your office like their mouth is smelling.
Watch an unhealthy amount of Telemundo
A few years ago, the distraction of your choice would have been Africa Magic, but based on a memo that was recently sent out by the Nigerian Receptionist Federation (don't google that), Telemundo is now the occupation's official channel.
Always have food in front of you
When you first get the job, your contract will most likely allocate just one hour for your lunch break. Well, consider that as more of a suggestion than a rule. You are actually free to eat anytime you want. In fact, they should always be food, preferably rice and beans, right on your desk.
There's always time to crash
After you spend most of your day eating and watching Telemundo, it's only fair that you get super tired. This is why you should be able to sleep whenever you want. Some people might call it "sleeping on the job", but for a Nigerian receptionist, not actually doing your job IS part of your job.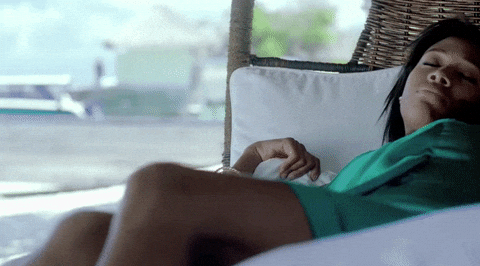 Personal calls > Work calls
Even though you're getting paid to answer them, let's be clear: Work calls are not nearly as important as personal calls. Your boss will just have to understand that you missed that important message because a friend was gisting with you about Papa Nkechi's latest affair.
Never stop squeezing your face
While you are allowed to do many things as a Nigerian receptionist – from crashing midday to eating consistently – the one thing you're not allowed to do is smile. A scowl is essential, making everyone who comes in feel like they are the cause of all your problems.
Have no regard for anyone's time
Once someone steps into your reception, their time essentially becomes worthless. Keep them waiting for as long as possible, and if you want to earn your gold star badge, make sure they still don't get to see your oga even after you waste their time.
"Not on seat"
This is your biggest power play as a Nigerian receptionist. When someone comes all the way to look for your oga, you have the ability to completely extinguish the light in their eyes with these three powerful little words. Utter them wisely.