Yes, love is good. Yes, music makes things easier. Yes, music about romance and love is wonderful, but do you people ever stop to think about those single people who have nobody? We bet you don't. And that's why we are telling you that we are tired of these songs.
1. Need You by Fireboy.
In fact sef, everything by Fireboy. Ahan, everytime love love love. Someone cannot breathe again? Fireboy DML, plis dear.
2. Beginning by Joeboy.
We're beginning to begin to begin to get tired, dear. Fall in your love and don't sing it to us.
3. Billionaire by Teni.
This would have been a great song to inspire us single people to make money since we can't find love. But Teni had to go spoil it by saying, "Wanna make love on the moon…" As single people, who are we to make love to ehn, Teni? Answer us, please.
4. Soapy, Tesumole and everything Naira Marley.
We cannot possess two identities anymore. We either choose to be single or to be Marlians. And seeing that the Marlian institution is set to frustrate us with repeated sexual content, we choose to be single. Collect your Marlian tag from us, Naira. We don't want it anymore.
5. Attention by Tiwa Savage.
Tiwa's audacity is shocking, tbh. You have somebody paying you attention but you say it is not enough. What of us that have only MTN and Ecobank text messages to pay us attention, what should we do?
Our reaction when these songs come up: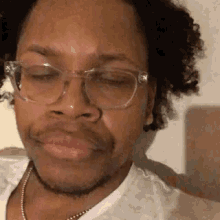 Not again, ugh.
By the way, if you'll be single this Valentine's Day, then this is for you: The Zikoko Guide To Surviving Valentine's Day As A Single Person