Dear kings, before you ask that woman to marry you, please check if these signs are manifesting in her life. May we not marry a feminist in disguise. 🤡
1. Tell her that after marriage, she'll not use her degree because you'll open shop in front of the house for her.
If she agrees, she has not collected the injection of feminism. If she does not agree, that one na bad market. Dump her quickly. You don't want a wife that will be going to office like you.
2. Take her to your parents house.
If she does not carry broom to start sweeping, that's the first sign. If they serve her three meat and she eats two, that's the final sign. God forbid that you marry a woman who does not want to be a modern slave.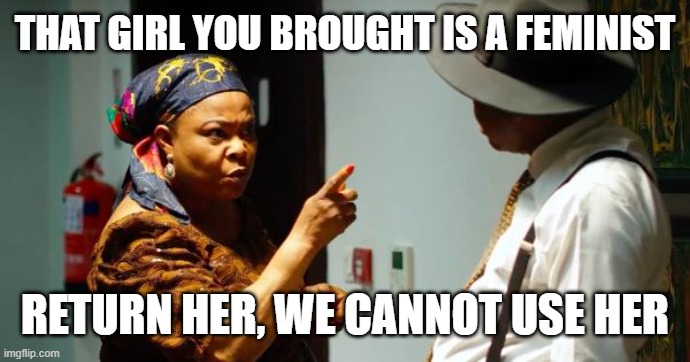 3. Check her dressing.
If she does not like wearing bra, she is definitely a feminist. Oho, she wants to feel like a man, abi? If you check well, she'll probably have a rubber penis in her traveling bag. That one na ogbologbo feminist. My guy, run.
4. Did she toast you herself or you toasted her??
If she was the one that came to you, oga better say no. It is only feminists that approach men. Those women have demonic courage.
5. If she likes to be on top during sex, my guy flee oh.
Why will a woman want to be on top during sex?? Oho, she wants to be the head and not the neck abi? Besides sef, why is she having sex with you before marriage? She's definitely a feminist. They are the ones who have sex before their appointed time.
6. Create a burner account and follow her on social media.
If she ever tweets men are trash or say that men are goats, my guy. You know what to do. You know that you are trash, but is it her place to say?
7. Take her on a date and see if she offers to split the bill.
Hmm. Where did she see money? And what is she trying to prove by offering to split the bill? That one will not hear control when you wed her.
8. Buy her gift and see if she buys you gifts too.
If she does, oga run. She's trying to prove equality. Who is she to spend on you? So that one day when you say you're the head of the family, she'll say she's also the head? Because of 3-in-1 boxer shorts? May God not collect the position of head from you.
9. She does not go to church.
Hmm. Na from there e dey start. Rebellion against spiritual authority. If she does not obey God, what is the assurance that she will obey you, you that you are even bigger than God.
10. She does not like to cook.
Guy, what will you eat when you two marry? Does she not know that food is your remote control? Dump her osiso. Before you marry something that will use hunger to unplug your life from the socket.
11. She does not want children.
This one is looking for a way to erase your family line. How can a woman not want children? She wants your family name to die with you. May God separate you from that kind of demonic agent. Can I hear your Amen?
12. She participated in the buss it challenge and silhouette challenge.
That one na Feminist with PhD. Exposing her body because she thinks she has control over it. Guy, run. Run before that feminist in disguise will destroy your life.
But please don't stop running. Run away with all your nonsense, because which feminist in her right mind will marry a man like you anyway?
---
---