Time is broken and we can't remember when it became necessary for everyone to stay at home. It's totally uncool, but self-preservation also bangs. Unfortunately, with this new arrangement, our regular Saturday weddings have taken a hit and have remained on hold. President Buhari has announced plans to ease the lockdown, but Miss Rona is still in town and weddings are not coming back soon. But Zoom weddings are a thing now. So Yay!
However, what's a wedding without the engagement or reception? These are where all the action is and that's why we miss them so much.
The Traditional Marriage Compere (Alaga Iduro) And Their Extortion Tactics
Usually, we liked to avoid these people, but now, they should come and take all this money. They deserve it for all the joy they bring to these things — the joy we now so desperately miss.
The Souvenir-Hoarding Aunties
It's always a funny sight when people ask for their souvenir and the Aunties in charge say there are no more. Meanwhile, they are sitting on a mountain of these gifts, so they will have enough to share with their invited guests.
The Hustle For Food
Nigerian wedding receptions basically become chaotic when it's time for food. No matter how meticulous your planning is, the food will never be enough. And if you don't know the right person, chances that you will go home hungry and fuming are extremely high. We miss this game.
The MCs And Their Dry Jokes
Let's be honest, most of these MCs are not as entertaining as they think they are. With questions like "Who can tell me why we are here?" and if the guests are not forthcoming, they proceed to diss them with "You people haven't eaten?". Meh! But most of us have been cooped inside our houses for more than a month and we will laugh to any joke we can get.
The Lit Live Bands
Now, these people are the highlight of a wedding reception. Even if their music is a medley or mashup of other known songs, you're guaranteed to dance. And we could use some of that right now.
The Unabashed Money Sprayers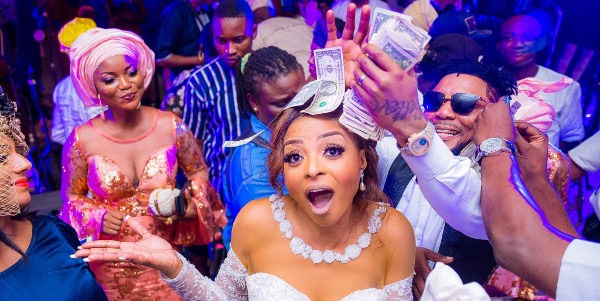 The Sinzu Spending. Their goal is to pepper everyone, and they do it without care. What would you give to watch these people do their thing one more time? I know that I would give everything.
We can't wait for Miss Rona to Pack and Go. We miss our wedding parties.
But in the meantime, remember to stay safe. And if you are feeling stressed, take a break from Coronavirus everything and lose yourself in the Happy Thoughts below