So you like a man but you have just found out that he is married? And so? Marriage? Is that why you are downcast? You better wipe your tears and follow our advice. Collect your man, biko. That marriage is just a training ground for him to become a better husband to you.
Here's how to go about it:
1. Go to his wife and let her know that you are interested.
Come to her as a woman. The options are simple: she should either share with you or get comfortable with the fact that one day, she will wake up and he will be gone. Which one does she prefer? Let her pick her poison.
2. If the said husband is a celebrity, find your way into his circle.
Is he an actor? Find a way to do waka pass in the next movie he's appearing in. Play your cards right and the next thing you know, you will waka pass into his heart and life.
3. Let's assume this husband is a musician.
*Please note, this is just an assumption. You are responsible for whoever you picture in your mind.
But let's assume he is a musician sha. Find a way to attend his concert. Dance so he can notice you oh, otherwise they might pursue you from the concert for wasting space. When he notices you, he will bring you up. The ball is now in your court. Dance your way into holy matrimony, dear.
4. Or maybe audition to be a back‐up singer.
It doesn't matter if you can sing or not. Just know how to do "Uh‐oh ouuuu" and you're halfway there. Before they realise you are a sham, you will have become a back‐up wife. Who back‐up singing help? Certainly you.
5. Orrrrr, kuku walk to the husband and tell him you like him.
Who knows, he could be down for it too. Is it not Lagos men again? Besides, the ways of the Lord are mysterious and unpredictable. Confess what you hope to possess.
6. Pray and fast, don't forget.
Oh, you think you can collect a whole husband without spiritual backing? I pity you oh. Wait until the fire of the Lord consumes you for trying separate what has been joined together by the soldering iron of the spirit realm.
7. And if prayer is not your thing, do juju.
Yes please. Don't act shocked. Do you want the husband or not? Answer quickly please, Amadioha is waiting.
8. Please note: anything your eyes see, take it like that oh.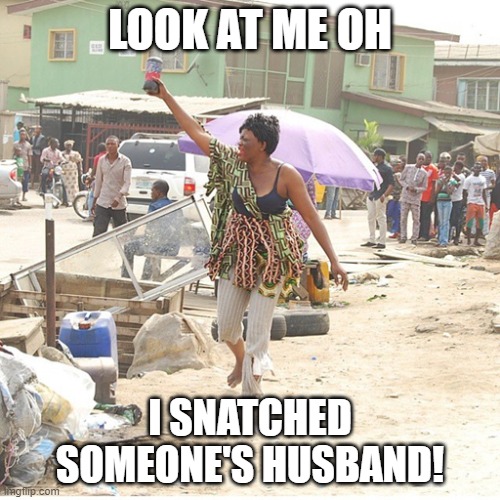 Before you come and say it's Zikoko that gave you advice. Our hand no dey oh.