Let's face it, there are punishments and then there are PUNISHMENTS clearly invented by people who hated children. It's understandable that kids can be stubborn and that it's important to discipline them once in a while. But, come on, why would you try to kill a child in the name of punishing them? Nigerian parents and teachers are at the forefront of meting out such punishments.
We've listed some of these outrageous punishments here because we are patiently waiting for the government to ban them. Hopefully, this list won't give you PTSD.
Pick Pin
The worst on this list is perhaps the pick pin. When adults ask children to pick pin, what they mean is for them to hang one leg in the air and point one finger to the ground. They are to remain in that position until their hanging leg gives out or until the adult feels like they've suffered enough. This one will make you feel like your soul is entering the ground. The worst part is that if the adult is extra evil, they'll flog you if you dare twitch. The government must ban this one first, and ensure that adults who mete out this kind of punishment get jail time.
Frog Jump
Up-down, Up-down, Up-down. Your thighs feel like they're about to tear. Your heart feels like it's about to explode. Your knees are about to give way. You're crying and shouting, "I'll never do it again!" When they finally "release" you, you'll just go to sleep. Only God knows if you came to this world to be a frog.
Okada
Thinking about the possibility of being punished like this can make you desist from whatever crime you're about to commit. You'll be asked to stay in a "squat" position and ensure your back stays at a "angu 90" with your legs. Essentially, you're supposed to ride an imaginary okada — as per, you're now an okada man. This punishment is designed to kill.
Suck Your Thumb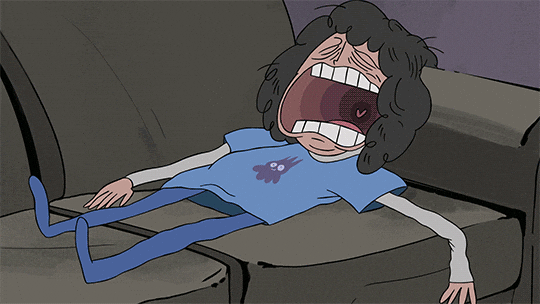 This one isn't as easy or straightforward as it sounds. You will be asked to stand on one leg, raise the other leg up, put an arm under the raised leg, and then suck the thumb on that hand. Try it and see if you won't be singing, "Pass me not o gentle saviour" in 30 seconds.
Kneel Down and Fly Your Arms
This one will fuck you up. You think it's just kneeling down, but it's not. It's probably the simplest of all 5, but if you do it long enough, you will regret making noise in class and calling Mayowa a mango head when he wrote your name on the noisemakers' list
If you know the person who invented any of these punishments, please let us know. We just want to tell them something.