Community Development Service (CDS) is a major part of the NYSC programme. NYSC began in 1973, as a means of raising "a class of patriotic, morally and physically disciplined Nigerian youths who graduated from universities and polytechnics to undertake the National service."
Yes, you guessed right. I didn't write that; I took it from the NYSC handbook they gave me in camp.
The complete list of everything you'll get when you are done with your camp registration.
The main aim of CDS is to help develop the community while helping the corps member become familiar with the culture and practices of that community. Maybe this is why a graduate of Unilag is posted to a village in Offi Oron — get to know the culture, and develop the community too.
This man, Samuel Dike, served in Kwara state and in his one year of service, he executed 5 community development projects. You too can do the same, or even more. But first, you have to know the Community Development Service groups available for corps members to join. This is a complete list:
1. Corps Legal Aid Group (CLAG)
Their purpose is to sensitise the public on fundamental human rights and provide free legal services to the less privileged. They visit prisons and sometimes organise public lectures on human rights.
2. Sports Group
This group participates in sports competitions and also identify talented members of the community in order to train them.
3. Culture and Tourism Group
The chop life group. This includes band, dance, drama and tourism. They entertain, identify talents, and also promote arts and culture.
4. Education Development Group
Everybody just calls them "Education". Their purpose is to promote mass literacy, adult education, career guidance and counselling for students, extra mural lessons, etc.
5. Environmental Protection and Sanitation Group
Of all NYSC CDS groups, this is the one I fell in oh. I swear, I have been picking floor and sweeping since NYSC. Once, I even carried chair. Anyway sha, the purpose of this group is to promote and sustain healthy environment. Tree planting, drainage and erosion control, landscaping, etc, are their activities. There's no room to slay here, abeg.
6. Editorial/Publicity Group
Press crew people. Their job is to disseminate information.
7. Road Safety Group
Their work? Traffic control, first aid to accident victims, contributing to public safety on the roads. E be things.
8. Reproductive Health & HIV/AIDS Group
To mobilize and sensitise people on HIV/AIDS prevention.
9. Anti-Corruption Group
The EFCC and ICPC people. Their work is to sensitise people on the dangers of corruption.
10. Service Delivery Group
This is the first time I'm hearing of a group like this. Their work is to sensitise people on service delivery and good work ethics.
11. MDGs
They create awareness and actualize the 8 goals of MDGs (Millennium Development Goals)
12. Medical and Health Services Group
This group provides and promotes medical services. Among other things, they set up the clinic for the NYSC secreteriat.
13. Drug Free and Quality Control Group
NDLEA, NAFDAC and SON people. They eradicate fake and adulterated goods, they create awareness on the dangers of drug abuse.
14. Agro-Allied Group
Their purpose is to support agricultural activities in host communities and promote better food production and security.
15. Charity Services and Gender Group
Their duty is to improve the standard of living in their host community through charity outreaches.
16. Disaster Management Group (NEMA)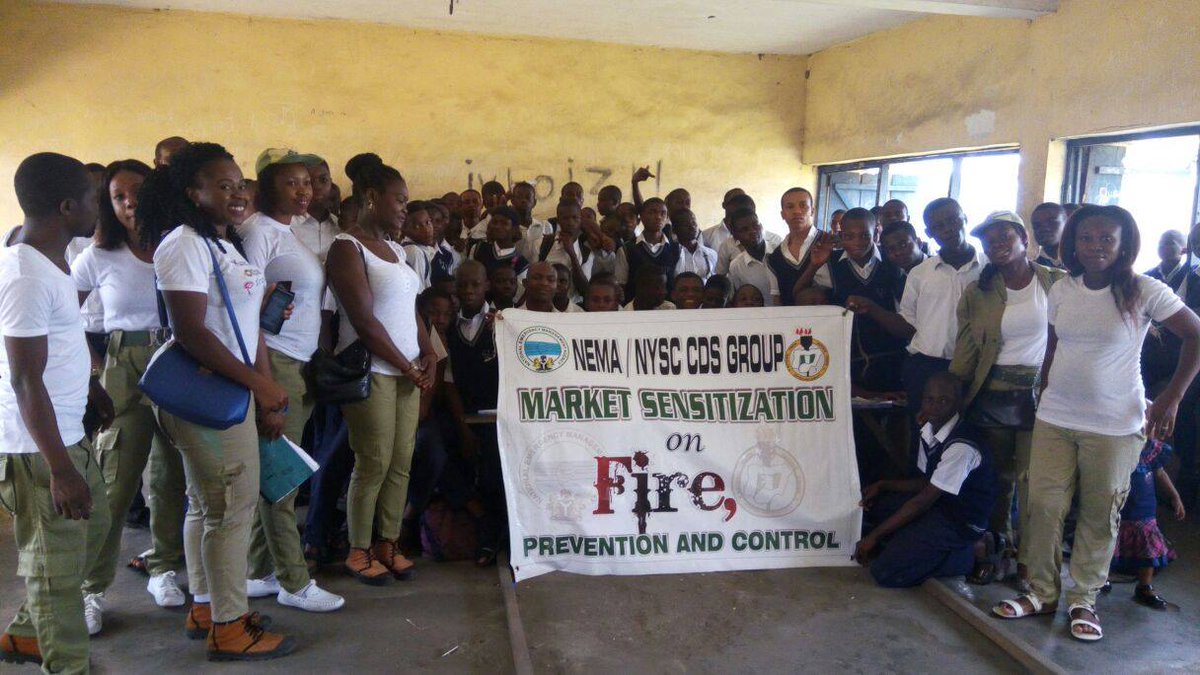 They create awareness on how to manage disasters.
Which of these NYSC CDS groups do you belong to?
Which one do you plan to join?
Tell us, we are dying to hear from you. 😊
Have you read this? 7 Types Of People You'll Meet At NYSC CDS
---
Hello there! Thank you so much for always reading. Are there topics you'd like us to write about? Do you have any NYSC-related questions you want us to answer? Send us an email kunle@bigcabal.com We look forward to hearing from you. Xx