Interview With… is a Zikoko weekly series that explores the weird and interesting lives of inanimate objects and non-human entities.
---
Inspired by Love Life, I decided to ditch a solo interview this week and speak with a very powerful couple whose impact has been deeply felt by millions of people.
As you will learn from this interview, they are bound together. You cannot mention one without mentioning the other. Honestly, they need no further introduction. Meet Lagos and his wife, Traffic.
Zikoko: When did you two first meet each other?
Lagos: She used to come and go at first. That was when Nigeria was a lot less populated, and there was really no hold-up except when traffic lights stopped vehicles.
In those brief, fleeting moments, I knew that I wanted to spend a lot more time with Traffic. She seemed to add colour to my life, and I never wanted that to stop.
Traffic: [blushes] Oh you flatter me. I have always loved Lagos. That's the truth. Yes, I have dated other states — Ondo, Oyo, Rivers — but each time I came to Lagos, he made me feel valued.
With the other states, it was usually a quickie. Come for a while, let's do it sharp-sharp, but with Lagos, he wanted me to stay forever. When the opportunity came for me to settle with him, I jumped at it.
What was the opportunity that came?
Lagos: The usual now. Increased population but limited amenities, mismanagement of funds, inefficient leadership, corruption — the whole package.
They were the same issues I had been facing for a while, but when it happened again, it just showed me how much I needed someone by my side. I didn't want to do life alone.
Traffic: [she holds his hand tenderly] He made the right choice. I mean, look at us today. A true power couple. Together, we can make your dreams turn to dust and vanish
All we need to do is delay you from getting to that date or dream interview.
Isn't that cruel?
Lagos: I mean, you have endured greater cruelty in the hands of the people you opened your eyes and elected. What is a little more cruelty that you cannot handle?
Traffic: And if there's anything I have learned in my relationship with Lagos, it is that Nigerians enjoy cruelty. I thought people would return to their villages when I moved in with Lagos, but no.
Instead, the population keeps increasing. How do you explain that?
Lagos is the land of opportunity. It's only reasonable that people come here.
Traffic: I know that my man is wealthy, and he gives to people regardless of where they come from. I even jokingly call him the Abraham of states, but, tell me, is he the only state in Nigeira?
Lagos: Exactly! Am I the only state where you can succeed? After all, my cousin, Abuja is right there, and everyone claims he's a single bachelor without traffic. There are other states too. So why me?
Do you ever fear that one day your marriage will be over?
Lagos: Maybe when the sky falls and drops over our heads.
Traffic: I used to have that fear back when I used to sneak in for a quick roll in the sack [she winks]. Then, I didn't have much power. I was a weakling and the traffic wardens used to separate us.
As the years went by, our love grew stonger. Now, look at us today. Even the traffic wardens are tired. People understand that I am a large part of Lagos. When they want to go out, they factor me in.
In fact, they have even found ways to make me a part of their daily existence.
If that is not power, I don't know what is.
But I'm curious. Can you imagine Lagos without you?
Lagos: Can you imagine a head without the neck? Or a body without blood? This woman right here is my heartbeat. She is my rhythm, the yin to my yang, the reason I am who I am today. Behind every successful man, there is a woman. Traffic is that woman for me.
Traffic: Tell me, interviewer, if we separate today, do you know how many people's livelihoods will stop? Agberos, potbellied policemen who will die without their N50 bribes, Mc Oluomo, even Sanwo-Olu.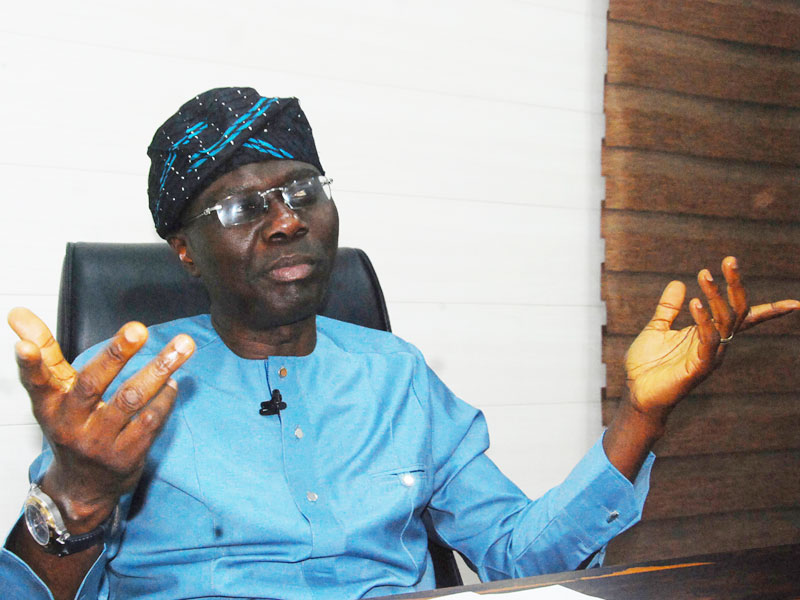 In case you don't know, our relationship feeds many people. Do you think they are always repairing Third Mainland Bridge for nothing? It is an opportunity to collect more money!
But don't you think a lot of lives will be significantly improved if you separate?
Lagos: The way this country is run, it is obvious that nobody in power is interested in improving the lives of its citizens. So why should we be concerned with improving lives?
Traffic: Simple question: Sanwo-Olu that is your governor, is he improving lives or doing the opposite? Think deeply before you answer that.
Well, he—
Lagos: Remember how he banned kekes and okadas and made Lagosians trek to work like Johnny Walker.
Traffic: Remember how he destroyed GoKada, Opay and other bike-hailing services.
Okay, but he—
Lagos: Lied about Lekki Toll Gate, didn't he?
Traffic: And the last arrest of innocent bystanders on February 13th, 2021, did he come out to say or even do anything?
Well, before Sanwo-Olu, Ambode tried to better lives too…
[they burst into loud laughter]
Lagos: Ambode that chose a waist-trainer over Lagosians?
Traffic: The waist must be snatched before Lagosians are snatched out poverty, you know.
My goodness, you both are despicable!
Traffic: Aww, you poor sweetheart. Honey, should I tell him?
Lagos: Yes, my love. Please, do.
Tell me what?
Traffic: As it was in the beginning, so it is now, and so shall it be forevermore.
Lagos: We are joined together by God.
Traffic: And by the corruption of your leaders.
Lagos: And what God has joined together?
Let no man put asunder.
Lagos and Traffic: Aha.
[They hold each other's hands and walk out while laughing aloud]
Check back every Friday by 9AM for new Interview With episodes. To read previous stories, click here.