Before you marry that babe, please check if these signs are manifesting in her life. May you not wed an agbero.
1. If she opens beer with her teeth.
Sign number one that she is a confirmed agbero.
2. If she can remove her wig anywhere.
And you think she will be ashamed of anything? When God was sharing shame in heaven, she was asleep.
3. If they are always dragging her on Twitter.
Her mouth dinnor use to stay in one place. One day you will marry her and she will facilitate unnecessary beating for you with her troublemaking mouth.
4. She always collects her change from conductors and traders.
LMAO this one will never forgive you. Even if she says she has heard, she will always find a way to do her own back.
5. If she can tear Shaki meat from stew with her eyes opened.
Ah. Tuale Mama. You better watch your ways around her before you find yourself inside cult.
6. She can start a Tiger generator on her own.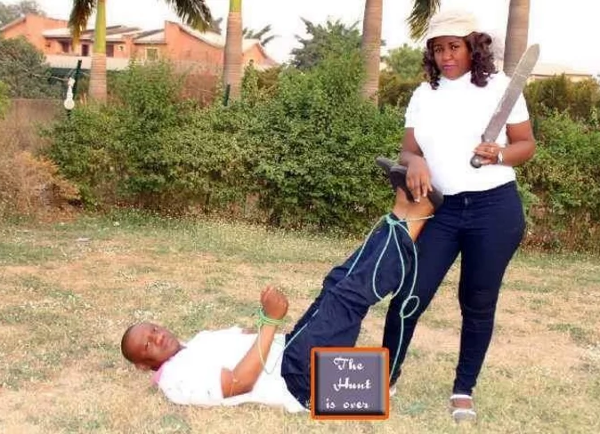 This one will make you feel useless oh. A woman who can start a generator on her own. How will you brag that you're the head of the home?
7. She can remove spark plug on her own.
What if she wakes up one day and decides to become a mechanic? You don't want to take that risk.
8. She can change from NEPA to Gen without the television going off.
She has superpowers. If you check it well, she fit dey fly for midnight.
9. She sabi connect wire.
One day you will piss her off and she will disconnect all your wires and sell them off. A babe like Hauwa, that's who you want to marry?
10. She is known in more than 3 bukas.
This one will never cook for you. You'll return from work and she'll gather you and the children to the nearest buka and order two wraps of amala each for everyone.
11. Area boys hail her when she passes.
Watch her well. She is an Area Mama. You date her, you are in trouble. You don't date her, you are in trouble still.
12. She can kill a goat.
But you sef. Have women finished on the earth that you now want to go after a woman who can kill a goat? A whole goat oh. Toh. God keep you oh.
13. She always wears leggings under her gown.
Ah, that one is always prepared to fight oh. Mrs. Undertaker. You better run. Her mates that wear ordinary tights, do they have two heads?
14. She can finish two shawarmas in one sitting.
And you are not afraid of her?
15. She cannot draw her own eyebrows.
How will she know how to do it when she spends all her time being a tout? You better free that babe.
---