The Minister of Communications and Digital Economy, Dr. Isa Ali Ibrahim Pantami, has approved a new set of guidelines for "Courier and Logistics Operation 2020" which, according to him, will 'enhance the operations of courier and logistics services in Nigeria.'
This new set of guidelines will replace the former one which has been in place since 2001. In the new guidelines, operators of small scale courier and logistics services have to obtain a licence before they can be allowed to operate.
The Nigerian Postal Service (NIPOST), a service provider and the regulatory authority for courier and logistics operations in Nigeria, released a document listing the fee for each licence and how to obtain one. The International Licence costs twenty million naira to obtain; National Licence costs ten million naira; Regional Licence costs five million naira; State Licence costs two million naira; Municipal Licence costs one million naira; and Special SME Licence costs two hundred and fifty thousand naira. Each licence will be renewed at 40% of the amount it cost to obtain each one.
These new guidelines are in line with Section 62 of the NIPOST Act, Cap 127, LFN 2004.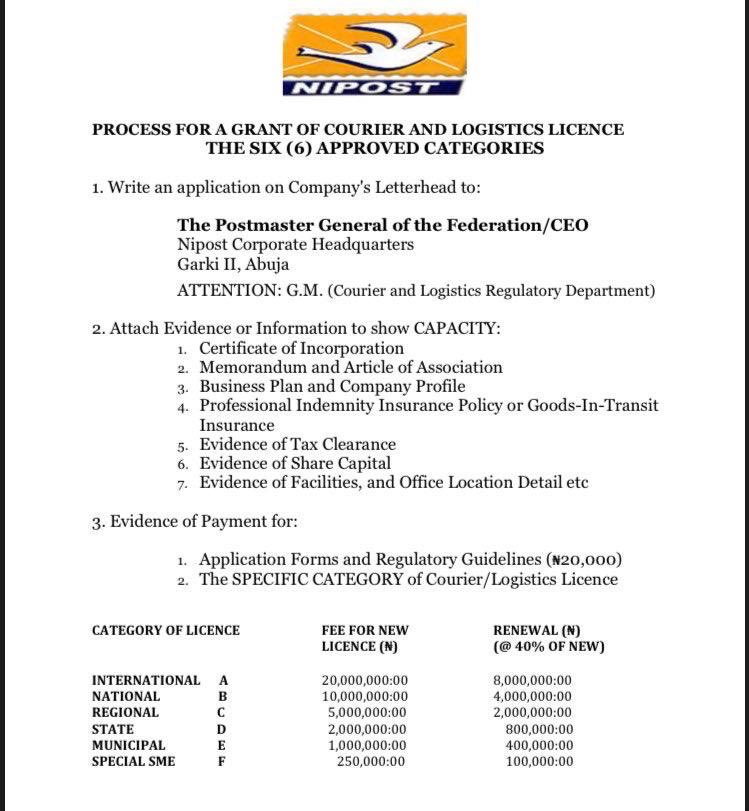 According to Dr. Ali Ibrahim Pantami, the new regulation is set to revamp the logistic and courier ecosystem of the economy and 'significantly improve efficiency make courier and logistic operation more effective, in line with President Muhammadu Buhari's administration policy on ease of doing business.'
But this regulation will, in fact, have the opposite effect. The implication of it is that a lot of small scale courier and logistics services as well as the businesses that depend on them will be forced to shut down due to the exorbitant licencing fee.
These small scale courier and logistics services sprang up due to the failures and inadequacies of NIPOST. With this regulation, these small business that came to fill logistics gap in business will no longer be able to operate freely.
In a tweet sent out by the Twitter handle of NIPOST, they claim that the aim of the new regulations is to 'protect genuine courier operations.'
A petition has been started to stop the new regulations from being implemented. You can sign it here: Say No To NIPOST Fee