Once upon a time, an insane Christian book that claimed the devil created football as a tool to destroy humanity trended on the internet. I did the dirty work of actually reading and recapping it. The article was so popular that I decided to make my recaps into a weekly series named "So You Don't Have To ", where I find batshit crazy pieces of media (books, movies, etc.) and recap them for your pleasure.
Today, I will. be reviewing super chaotic Nigerian magazine covers.
Like all other aspects of Nigerian entertainment, magazine covers have gotten better over the last two decades. Sure, there's still room for improvement, but we've come such a long way from when the best we could get was the covers for Hints magazine that looked like they were made in Microsoft Paint.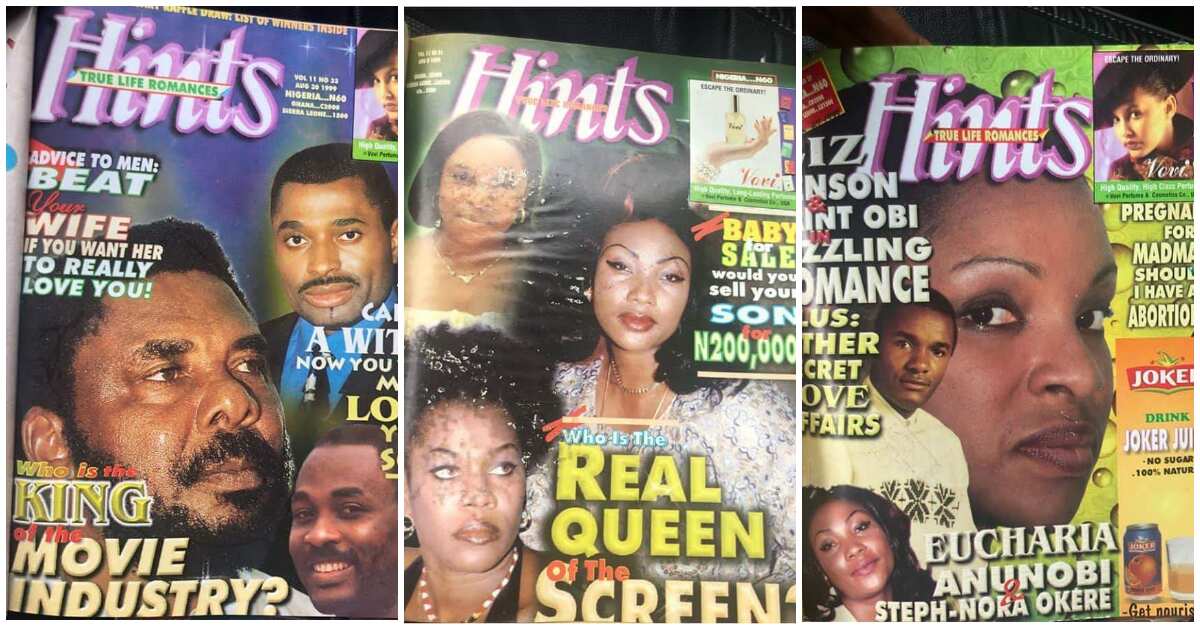 99% of the things reported in this magazine were lies but we still ate it up anyway because it was juicy as hell.
Yes, magazine covers have improved. But once in a while, a cover will pop up that'll make you scratch your head in confusion and wonder if you slept and woke up in the early 2000s, back when the super chaotic cover style of City People was the norm.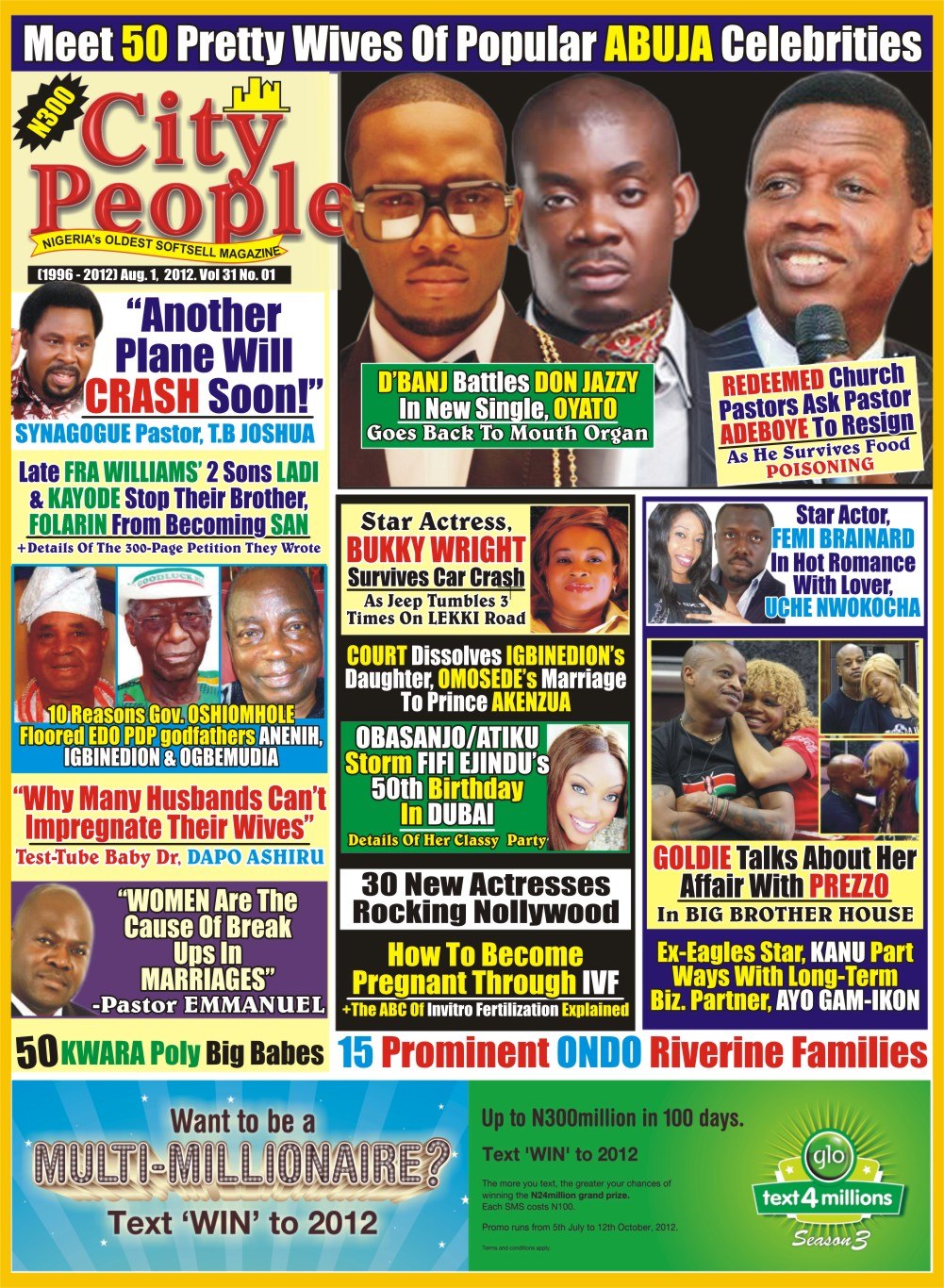 Olajumoke for House of Maliq
When Olajumoke blew up, brands and fashion houses couldn't get enough of her. She was stunning and they used her beauty to create beautiful art. That all changed when House of Maliq got their hands on her. For their April 2017 issue, they dressed Olajumoke in a pair of trousers that looked like they were made of Big Foot's skin, a blouse reminiscent of Pennywise's in "It", and what I'm sure is a Golden Girls Halloween wig.
The cast of KOB 2 for This Day Style
This Day Style got Kemi Adetiba and a few members of the KOB 2 cast for a photo shoot just after the series was released. There are other spreads from this photoshoot where they're dressed normally and look really good. But you see this one above? This is the one they used as the main cover, which is insane because they all look like they're dressed for wildly different occasions.
Sola Sobowale is dressed like discount Marie Antoinette.
Nse Ikpe-Etim is dressed like Fiona from Shrek in a Pennywise clown wig.
Deyemi Okanlawon is dressed like nigga Shakespeare.
Kemi Adetiba is dressed like a pastor's wife who moonlights as a bullfighter.
Illbliss is dressed like a 1950s drug lord.
Chioma Chuwkwuka Apotha for House of Maliq
They really did my homegirl dirty by putting her in a green poncho, a headgear made of vegetables, and then told her to pose like one of the toys in "Toy Story" whenever a human comes into Andy's room. What was the theme here? Did the stylist hate their job, Chioma, or both? I guess we'll never know.
Mercy and Ike for Media Room Hub
There's too much going on here. I don't know why but it bugs me that Mercy is barefoot. Then there's Ike, who I'm very sure the stylist looked at and thought, "I'm going to fuck this nigga up" because what is going on with his hair? This one was even funnier because they clearly copied Kylie Jenner and Travis Scott's cover for GQ, executed it poorly and got dragged for it.
Oge Okoye for House of Maliq
I'm guessing they couldn't figure out a dress for her so they just stuck her in a giant duvet and called it a day? Yes. That's definitely what happened. She did the best she could with what she was given sha and served "sultry bedroom goddess realness" so she does deserve props for that.
Kaffy for House of Maliq
These people need to be stopped at this point because what is this, and why is she holding a chicken? What was the concept for this? WHY??
Iheoma Nnadi for House of Maliq
This looks like a very Nigerian pre-wedding photoshoot gone wrong. Iheoma deserved better than this.
Tana Adelana for House of Maliq
I wonder if the person who came up with the concept for this genuinely believed they could start an apple necklace trend. I wonder if Tana felt silly doing this. I wonder who took a bite of that apple. Did they make Tana take a bite? Even worse, did they make someone else take a bit when it was already around her neck? What is that wig? I wonder…
Tania Omotoya for House of Maliq
The people at House of Maliq have to be trolling us at this point because IS THAT A FUCKING COCKROACH?! WHAT THE FUCKING FUCK?!
Whatever the fuck is going on here for House of Maliq
You know what? I'm done.
Nigerian magazine covers