The Nigerian experience is physical, emotional and sometimes international. No one knows it better than our features on #TheAbroadLife, a series where we detail and explore Nigerian experiences while living abroad.
---
Today's subject on Abroad Life is a 21-year-old woman who discovered she is pansexual after moving to the US. She talks about leaving Nigeria, leaving religion and the journey to discovering and accepting her sexuality. 
What was growing up in Nigeria like for you?
I grew up with my parents and three brothers. There isn't a significant age gap between my siblings and me, so we've always been close. My parents are religious and so we did a lot of church growing up. This affected me in many ways, but the most significant was that I was hypersexualised. Church members, teachers and adults took everything I did out of context and reported to my parents. If I talked to a guy, even in primary school, my parents would find out, so I was scolded and monitored a lot.
Damn.
When I started using a phone, my parents would search my phone at every opportunity. I got smarter and began deleting messages, but they would notice. I remember one time when a guy texted me, "Good morning, my darling sister," and I got in trouble because my mum saw it and got angry because someone was calling me "darling".
How did all of this affect you?
I started to question a lot of things. When I finished secondary school, I decided I didn't want to go to church anymore and told my mum. She gave me one month to figure out why I made that decision. When the one month was complete, she asked if I knew my reason for making the decision, and when I said I didn't, she said, "As long as you're under my roof, you will keep going to church."
When did you decide to move to the US?
I was in SS 1 when I decided to take the SATs. Thankfully, I started the process early because I took it twice before I completed secondary school. In 2017, my admission was ready, and that was when I left.
Did you go alone?
My brothers and I moved to the US in the space of four years. We came here for school. I live in the northern part of the US, and they all live in the south. I like being away from them. I've been closely monitored all my life, so being away from them is a relief.
I'm curious, was it easy for your parents to let you leave Nigeria to live in another country on your own?
It was. It was easy for them to let me go because I got a full scholarship with accommodation, books, feeding and all that. My uncle lived about an hour from my school, so they concluded that I'd have someone to watch over me.
What was it like moving to the US?
I used to come here for holidays a lot when I was a kid, so it wasn't new. But this time, I was free. In my final year of secondary school, I joined Twitter and started unlearning and learning many things. I unlearnt my homophobia and became a feminist. Moving to the US gave me more freedom to be more open-minded.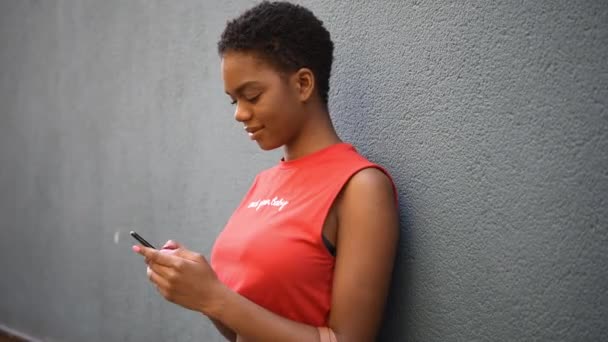 What were some of the things that you explored?
When I got to the US, I became very religious. I went to church three times a week. One day, I was sitting in church and I thought to myself, "Everything this pastor is saying is cool, but do I believe any of it? Do they align with my values?" My answer was no, and I just decided to stop going to church.
Just like that?
Yes. And since I'd stopped going to church, I was free to do the things that church was seemingly against.
What were those things?
Getting tattoos, piercings and exploring my sexuality. When I was younger, I struggled with my sexuality. I remember having dreams where I was with girls and praying the spirit of homosexuality away. Even in the US, before I stopped going to church, I realised I had a huge crush on a girl in my dorm. When it got to the point where I couldn't hold back the feelings anymore, I blocked her. That's how scared of I was of being queer.
The freedom I now had was amazing. But it was also very dangerous.
Dangerous?
Yes. The way I approached exploring my sexuality was dangerous and unsafe. I was very shielded in my background, so freedom meant that I could do whatever I wanted. I didn't have any community to guide me in the exploration of my sexuality, so I fell prey to a lot of weird and predatory people. I remember the first girl I was with. In that relationship, she made me do things that I would now consider as passing my boundaries, but there was no way I could tell that I was being taken advantage of. I was trying to be sexually liberated.
The messaging behind the concept of sexual liberation needs to be worked on because a lot of the time, it's targeted at people in their late teens. These people need guidance. They need to take it slowly and understand themselves. But there's a lot of pressure on them to try everything. That's what I did.
After a while, I got into a safer community. At the end of 2018, I discovered that I am pansexual.
Are you openly pansexual?
When I was in school, people knew. I don't try to hide it except I'm in Nigeria or at my uncle's place here.
How often are you at your uncle's?
I'm there every holiday. He can't know because they'll tell my parents. I even have to take out my piercings and wear long sleeves to cover my tattoos.
Do your brothers know?
They do. I was so excited to tell them. But my older brother thinks it's because I'm now in America and woke that I decided to be pansexual. My twin brother and younger brother just said something like, "Okay, do you want us to clap for you"?
Damn. Do you think you'll ever tell your parents?
I think my dad was on to me the last time I went to Nigeria. He kept asking me if I liked Bobrisky and supported what they did. We'd have arguments about the concept of homosexuality, and he'd tell me that everyone he knows that was queer when he was young is dead now. That they died of AIDS because they were gay. It is always so intense. One day, he called me to sit with him at 2 a.m. and told me that if I ever got caught with a woman, he'd disown me.
Oh, wow. What about your mum?
She's getting better. She's going to therapy now. When I went to Nigeria last year, she apologised for being invasive and abusive to me when I was a child. We're having better conversations now. I got out of a terrible relationship with a guy and was really sad and she was the only one I could talk to about it. She'd call me every day to ask how I was feeling.
That's nice. Do you think you'll ever tell her?
The last time I saw her, I talked about supporting queer people and she said, "It's only you that will support people like that o." So, we're not there yet.
What do you miss the most about Nigeria?
Nothing. I can't say the food because I can find Nigerian food here, and I can't say family because my brothers are here. I don't like being in Nigeria. Nigerians are a bit too aggressive. I'm soft; I cry easily.
What do you like about being in the US?
Freedom from judgment. Here, I can be myself. I don't have to edit bits of myself to fit into anybody's book. Recently, when I graduated from university, my mum called me to thank me for not "disappointing" them after they trusted me to go abroad on my own. That's probably because I graduated with a perfect 4.0 CGPA and got multiple scholarships. But would she still be proud of me if she found out I am pansexual or that I have tattoos and piercings?
---
Want more Abroad Life? Check in every Friday at 9 A.M. (WAT) for a new episode. Until then, read every story of the series here.