A few months ago, I was on a group where people were talking about how the culture of kneeling to ask for a woman's hand in marriage was very new in Nigeria. The first thing that came to my mind was, "I wonder how my dad asked my mum to marry him?"
I picked up my phone and asked him, and after he told me his story, I decided to to ask other older men how they asked their wives to marry them.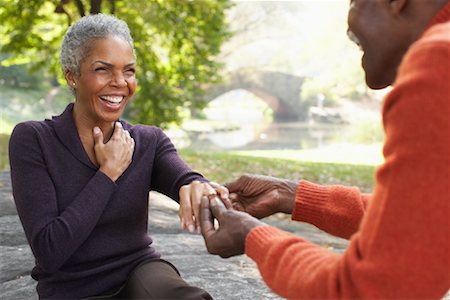 1. Fatai
I was in my early 30's when I met my wife. For some reason, I couldn't approach her, so I told my friend to tell her older sister about me. One day, her older sister called me and asked me what I wanted with her sister, and I said we were just friends. I couldn't admit that I liked her, I hadn't even spoken with her.
After some time, I started writing letters. From time to time, I'd pass by her house, just to see her. We'd say hi, and I'd leave. Whenever my friends passed around her house and saw her, they'd find a way to send me the information and I'd in turn find my way there.
After some time, I told my own older sister about her, and she somehow found a way to tell my wife's older sister, who went, "Aha, I knew you liked my sister!"
Her sister told her father, but he said she couldn't get married to me because she had to finish her education. Shortly after, she dropped out and said she wanted to do business. Her father was so angry. He blamed me for making her drop out. and then strengthened his stance that I wouldn't marry her.
After some time, my sister found another person to beg her mother. Her mother was more receptive and begged her father to let her marry me. They did all the ìwádìí (Finding out about my family, and my lineage) and met my family and then agreed that she could marry me.
It was at this point that we started talking.
2. Adesanya
I met my wife in fellowship. We were in the drama unit and in the choir together. We weren't particularly friends or anything. I had the same relationship with her that I had with everyone in the fellowship. When I was ready to get married, I prayed to God to show me who my wife is, and he told me it was her. I heard him clearly, I was sure it was going to be her. So I walked up to her and told her, "Hi, I love you and I want to marry you." It took her three months to get back to me, but when she did, her answer was yes.
We didn't get married until after a while though. Her father didn't want her to marry me because I wasn't from their village. It took him five years to finally say I could marry her.
3. Solomon
My father died when I was a baby, so my mother was all I had. When I got older, she told me that she wanted to find a wife for me from her village and because I loved her, I agreed.
The first woman she brought for me to marry secretly begged me to call off the marriage because she was already in love with another man, so I gave some flimsy excuse and called it off. My younger brother insisted that I couldn't marry the second one because he was already dating her sister. My uncle said I couldn't date the third one. He didn't have any reason, he just said no. I didn't like the fourth one.
At that point, I decided to find a wife for myself. I was praying a lot about the type of woman I wanted to marry but I realised that even I wasn't perfect, so I decided to spend one year making myself better, instead of looking for a wife.
I'd always seen myself marrying a hardworking woman. I love hardworking women. I was at work one day when a beautiful young woman came looking for a job. She was 19. My God, she was so beautiful. The only opening we had was for a cleaner, and we offered her the job. She took it and did it so, so well. Funny thing, she was a graduate.
Shortly after she started working there, I realised I'd fallen in love with her, so I found out if she was a Christian or not. She was, but she didn't go to church often so I started taking her to church. When she became very active in church, I knew she was ready, so I walked up to her one day and said, "I don't want to date you, I want to marry you."
We've built a good life together. She's the best decision I've ever made in my life.
4. James
I got back from Italy in 1984. My plan was to stay in Nigeria for a short time before I moved to England, but I met my wife at a car park as my friend and I drove from Lagos to Ondo. I told my friend to slow down, and I approached her. Luckily, she was also going to Ondo. Her village and mine were very close.
We got talking on the trip and even though I dropped her off at her village, I was there again the next day to meet her parents and tell them that I liked her. The next year we had out traditional wedding and moved to London together.
A few years later, we had our normal wedding in London. Our children were there.
5. Adeyemi
I was sleeping at a Christmas party in the early 1980's when someone woke me up to tell me that the babes were around. The first person I saw when I opened my eyes was my wife. She was so beautiful. I asked her to dance with me, and when Gary Moore's "Falling in Love" came on, I started pointing at her as the I sang the song.
In the next few weeks, I would go to her hostel from time to time to see her. Her friends loved me, so they made it easy for her to like me back. After I got back to Zaria for school, I started sending endless letters to her. She sent some too.
When I got back to Lagos, I told her I wanted her to meet my parents and she agreed. I was scared because my parents had rejected the first woman I brought because she was Ijebu. My father pretty much interrogated her, and after some time, he accepted her.
When I was in my third year in university, she got pregnant, and we just decided to get married then.