Before you empty your account to go on a holiday to America so you can visit Disney Land and spend hours waiting in line to go on some ride that the disgruntled ghost of an Emerald City extra in "The Wizard of Oz" is rumoured to haunt, check out this these 7 Nigerian tourist spots. They're pretty enough for Instagram pictures and you don't even have to bankrupt yourself to visit them.
1. Olumo Rock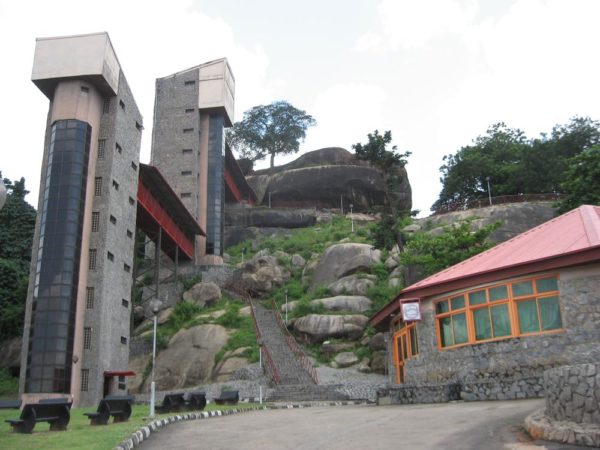 If you haven't visited Olumo Rock, have you even started doing tourism in Nigeria? Located in Abeokuta, Ogun State's capital, the 137-meter mountain is one of the most popular tourist destinations in Nigeria. According to legend, the rock and its caves served as a fortress for the Egba people during inter-tribal warfare in the 19th century.
The guardians of the mountain try to preserve its culture — you'll see people dressed in white, worshipping the old gods in shrines and other people who still live there, as the tour guide takes you around and tells you stories. At the top of the mountain, the picturesque view of Abeokuta will leave you with enough cool pictures to tension the gram with.
2. Yankari Game Reserve
If you're looking for a reason to visit northern Nigeria, visiting Yankari Game Reserve should be good enough. The reserve houses a huge collection of wildlife in their natural habitat — lions, elephants, antelopes, baboons, hippos, and different species of birds.
Visit this place and pretend to act out the plot of "The Jungle Book." Mowgli no do pass you.
3. Obudu Mountain Resort
You probably know Obudu Mountain Resort as Obudu Cattle Ranch. It's located in Cross River and it's one of the most scenic and peaceful places you can visit in Nigeria. You can go hiking, see sights, take amazing pictures, and disconnect from the rest of the world here.
4. Awhum Waterfalls
If you're scared of the extraordinary, Awhum Waterfalls is not for you. Located in Enugu, the 30-metre highwaterfall made out of granite rock is said to have spiritual forces of healing and dispelling satanic forces. So if you go there with bad vibes, you're going to burst into flames and die.
Just kidding.
5. Osun-Osogbo Sacred Grove
The Osun-Osogbo Sacred Grove is a UNESCO recognised World Heritage Site. Every year, the Osun-Osgogbo festival is celebrated in the month of August at the grove. If you want to experience ancient Yoruba culture, visit the grove.
6. Lekki Conservation Centre.
If you've never been to LCC, you're dulling oh! Vegetation, an impressive range of animal species, games, and a brilliantly engineered 401-meter canopy walk – the longest in Africa – are waiting for you in Lekki's heavily toured conservation centre. If you love nature and don't mind running into everybody you've ever known, LCC is an amazing place for you to visit.
7. Badagry Heritage Museum.
There's no better place to learn about the history of slavery in Nigeria than the Badagry heritage museum. The rich pieces of history and the stories you'll hear and see here will amaze you. Every Nigerian should go to Badagry Heritage Museum.
---
If you're interested in tourist attractions in Nigeria, you might be interested in this quiz.