As told to Hassan.
A couple of weeks ago, I overheard a doctor talking to an ex-patient. The tenderness in the doctor's voice piqued my curiosity. During the course of the conversation, he sounded incredulous because someone had died. For someone so used to death and dying, the doctor was visibly shaken. A few prodding questions, a couple of phone calls and consent later, I had the story that led to this article.
---
My sister died at 11.47 p.m. on Friday. I'm not sure what her last words were, but she must have probably called out for me, saying, "Mummy, don't leave me."
Mummy? I can tell that you're a little confused. To understand why she used to call me mummy, we need to go back to the beginning.
***
4 years ago:
My sister was a vibrant, playful, four-year-old child. At least until the pain came. Young children in pain can't fully express themselves with words because of their limited vocabulary. However, they show discomfort by either writhing in pain or becoming dull and withdrawn. In my sister's case, it was the latter. She quickly became a shadow of herself; solemn and reclusive. Her withdrawal worsened so much that her dad, who's actually my brother, had to beg me to take her to the hospital.
My first question was, "Where's her mother?" to which he replied, "She abandoned me and ran off with another man." — we'll get to her uselessness later.
So, thus began our journey of doctors, syringes and repeated rounds of diagnostic tests.
***
Everyone who saw us at the hospital always asked: "Is she sick?" or "Is she visiting someone?" To which I smiled and responded, "She's sick." The next thing was for them to say: "How can a child this active and pain-free be sick. What's wrong with her?" With a tight smile, I'd say: "Nephroblastoma", pause, and add "a cancer of the kidneys." The response would be a characteristic "Oh…"
Another question I always got was "Who's she to you?" To which I'd reply, "my sister." Since we were related by blood [her dad, my brother], I preferred calling her sister rather than my niece.
It took us six months before we got her diagnosis. In that period we had gone from one general hospital to another in Lagos before finally landing at the University of Ilorin Teaching Hospital. This change had required leaving my job in Lagos to take of her for six months in Ilorin. In that time frame, we experienced one major surgery, numerous rounds of chemotherapy, multiple blood transfusions, and various forms of brokeness.
Her dad would shuttle between Lagos and Ilorin and send money, grudgingly.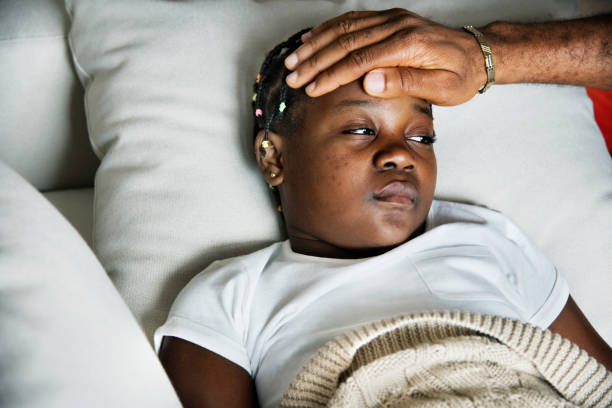 Her mother simply never showed up or called. The most effort she made was to send her sister to take a photo of the sick child.
My sister got tired of waiting for her mother to show up, and she started to say: "Iya Amirat [name of my sister's immediate older sibling] didn't come to see me, so she's not my mummy. You're my own mummy."
This newfound bond made things tricky for me because she was always scared that I'd leave. She never let me out of her sight. She'd follow me if I had to go buy medicines, or even if I was going to the toilet. One time, she yanked off her drip because I was going to get medicine outside the hospital compound. She was definitely not letting her new mummy go so easily.
One thing that struck me about that period was that all the kids in the ward who had similar symptoms as my sister died. Some died while on admission, others, like my sister, died after a brief period of recovery. The doctors kept asking if we lived near a refuse or telecommunication mast or anything that might have predisposed her to the illness. To which I always answered, "No". Then they'd scratch their head trying to figure out how best to help her.
The solution always came back to chemotherapy.
One round of treatment cost us ₦15,000. And she had to undergo treatment three times a week. This was minus treatment for some of the side effects of chemo, and minus the tests she had to take before starting chemo. Every treatment cycle involved her hair falling out, a bout of malaria, a lot of blood samples, and her dad complaining that he didn't have money.
When her dad asked us to return to Lagos, I didn't put up a fight. At that point, I was tired of his complaints and I was also tired from uprooting my life. That's how we abandoned the treatment halfway to restart our lives in Lagos.
Things were going well until one year later when the illness returned. Before then, she had returned to her playful self. I had also been saving from my salary to finally attend University. Our fairy tale was shattered because the sickness came back with twice as much force. Her breathing was the first to struggle, then the pain came along.
Once again, we found ourselves back at the hospital from which we had run.
***
We had barely spent a week in the hospital when my sister gave up. I'll never forget the time because at 11:30 p.m. on that day, I had rushed to the pharmacy to get some drugs for her. At that point, she was already gasping for air. The doctor met me on my way back from the pharmacy and pulled me aside. She told me, "Your sister has given up." I replied, "Is she sleeping?" Then the doctor said, "She's dead." To which I replied, "Dead bawo?"
At that moment, I wanted to give up. I felt betrayed. After all we had gone through, she abandoned me. How could she be gone like that? I had just asked her a few minutes ago what she wanted to eat, and she had responded. What happened to our promise of beating this illness together? Did those words hold no meaning to her?
Looking back, the signs were there that it was her last week. She had to bend to breathe, she was always in pain, and had to lie in the foetal position to be comfortable. But we had passed through worse, so I thought this too would pass.
I take consolation in the fact that God knows best.
***
Pain ages people. It turns adults into wizened old people, and it makes adults out of children. Part of the reason I miss my sister a lot is that we related like age mates. Even though I was eighteen at the time and she was barely five, we found a lot of common ground in conversation. I found that I could talk to her about my struggles and she could also confide in me.
In addition to her precociousness, she was also smart. My sister knew the name of her favourite doctors, the name of tests like Full Blood Count, or medical jargon like PCV. She also quickly learned to associate hospital gates with a lot of pain.
There were also extreme mood swings where things got thrown at you. Or she could become so lively and animated that you had no choice but to participate in her joy.
I sometimes feel guilty that her father didn't have enough money for us to stay back and finish the treatment. Then I also get angry that her mother never showed up. In her short life, my sister learned that pain could be both physical and emotional. For that reason alone, I can't ever forgive her mother. There's a part of me that still believes that if her mother was present she might have held on for longer.
I'm grateful for the experience. I've come to understand how precious the gift of life is. I'm grateful for the time I got to spend with my sister, however short. Most of all, I'm grateful for the privilege to be the mother she never had.
---
Editor's Note:
Balikis, the subject of the story shared her story to spread awareness of Nephroblastoma and to also seek ways the Nigerian government can help in the early detection of the illness.
Help Zikoko keep making the content you love
More than ever, people are turning to Zikoko for stories that matter and content they love. But still, we, like many media organisations, are feeling the financial heat of these times. If you find us valuable, please make a contribution to help keep Zikoko zikoko-ing.
Thank you for your support.
We are also cool with Crypto.