The Nigerian experience is physical, emotional, and sometimes international. No one knows it better than our features on #TheAbroadLife, a series where we detail and explore Nigerian experiences while living abroad.
---
The subject of today's Abroad life is a 35-year-old man who has lived many lives. He talks about being rejected three times by the US embassy, the bad state of the Nigerian education system, and how freelancing paid for his japa.
When did you decide that you wanted to leave Nigeria?
I'd always passively wanted to leave Nigeria, just because I knew I could have a better life somewhere else. The desire became active when I was 16.
What happened when you were 16?
The American embassy rejected my visa application.
Now, I was privileged to have a good family in Nigeria. My parents were together, and I was close to my brothers. Growing up was pretty fun. We didn't really have money like that, but we had each other.
I'd always been interested in technology. I studied every machine I saw and built new ones with whatever spare parts I could find, so it was only fitting that when I finished secondary school, the only thing I wanted to do was study robotics. No Nigerian university offered robotics, so I wrote the SATs and applied for scholarships in the US. My SAT scores were so good, I got tons of scholarships. None of them was fully funded, but one was offering to pay 90% of my tuition for me to study robotics, so I went with that one.
I got to the embassy for my visa interview, and I wasn't even allowed to speak before I was rejected. In retrospect, I believe I could have presented better documentation, but I still don't like the way I was treated. We weren't even given seats and were made to wait for long in the sun. I was really hurt.
What happened next?
I got depressed. At that point, I didn't know it was depression, but I didn't want to leave home or leave my bed, or eat, or take a bath, or talk to anyone, or live. I just wanted to stay in bed all day. I'd never been rejected that badly before. My parents saw that I was heading to a dark place and decided to intervene. They got all the money they could and got me into Igbinedion University. They couldn't afford the fees, but they wanted to make up for the fact that I couldn't go abroad.
What was school like?
I quickly discovered that the Nigerian education system was a terrible sham. I studied electrical and electronics engineering, and my lecturers weren't passionate about imparting knowledge — they didn't even impart knowledge. They just poured out the content of a textbook or the same lesson notes they'd been using for years. It was obvious they were only trying to get through the day and earn a living. In my first semester, I tried to actively be a part of school by asking questions, but the lecturer would tell me not to be so inquisitive. On some other occasions, I'd correct something they did wrongly, and they'd insist they were right. I decided to focus my energy on other things.
What did you focus on?
Business. I like to tell myself that university wasn't good for me educationally, but I learnt how to do business. My parents were always struggling to pay my fees, so I promised myself that before I graduated, I would be able to pay at least one session's fees. I couldn't achieve that, but I learnt a lot. In school, I started a game centre, a tech support business and a business that helped people turn photographs into pictures.
I got so disengaged from school that I would only pay attention to my studies one week before exams, and I still finished with a second-class upper division.
In my fourth year, I had an experience that changed the way I thought.
Tell me about it.
I interned at NLNG and saw young people earn so much money. It was the first time, after my rejection, that I realised that I could live in Nigeria, live a very good life and make good money. Those six months brought me some clarity.
Nice.
After school, I got an internship at a production company where I fell in love with videography. I became confused. Did I want to be a videographer, a business person or someone that was interested in robotics? I was still looking for answers when NYSC posted me to a village in Taraba.
Let me paint a picture of the village: there was no power and there was no network. If you wanted to make a call, you either had to climb a mountain or go to the neighbouring village. I had to innovate and build an antenna out of wires and a metal hanger which I connected to my phone, and that's how I was able to make calls. But we still didn't have power in my corper's lodge, so I had to make money to buy a generator. I found a gig where I marked WAEC and NECO exam papers. After I got the gen, I would go from room to room collecting money from people to buy fuel every day. That's how we survived.
That must have been tough.
My primary place of assignment was a public secondary school where they had to mass promote people even if they didn't get good grades because the number of students was overwhelming. I taught JSS 3 Integrated Science. To make some extra money, I found a job in a neighbouring village uploading songs into people's phones and fixing phones and laptops.
One day, I was teaching my students and mentioned an improper fraction like ⅗, and they all said it wasn't possible. JSS 3 students didn't understand the concept of improper fractions. I was so visibly shaken that I had to walk out of the class and have a few words with myself — was I going to help them or not?
I found a primary school nearby and asked the proprietor for some math textbooks, so he took me to the school's library. The place was in pristine condition. There were tonnes of textbooks waiting there to be used. Nobody ever touched them. I took a few textbooks back to my school and organised after-school lessons. It was then I discovered that my JSS 3 students were at Primary 3 level of mathematics. They couldn't do Primary 4 math.
The classes increased in size every day, and the students showed their appreciation by bringing me baskets of fruits. That was all they could offer. I wasn't asking for money or anything. I was doing something genuinely good and enjoying it. The students enjoyed it too. It was obvious they were interested in learning. Everything was going smoothly, and then I did something I'm not proud of.
What?
I got overwhelmed. I couldn't do my extracurricular teaching job and business at the same time, so I had to make a choice. I chose business. I was broke, and people were beginning to demand the services I offered more and more in the neighbouring village, so I told my students I couldn't continue teaching them after school.
I got really popular in the neighbouring village. I was fixing everything. I brought so much business to the guy I was working with that he trusted me enough to leave me with his apartment, his shop and his bike and went to Lagos for a while. Even the local government chairman used to call me to his house to fix stuff. People paid ₦500 or ₦1000 to fix their stuff, so it's not like I was making a lot of money, but I had so much business that the ₦500s and ₦1000s were enough for me to live a decent life. After NYSC finished, I left Taraba.
Where did you go?
Abuja. I set up a business there for a bit doing tech support, but I had to leave because there was too much corruption. If you wanted to get big jobs, you had to bribe someone or promise them some money from the deal. I didn't like that, so I went to Lagos.
Was Lagos different?
Lagos was much better. You got jobs because you were good at what you did. It was when I got to Lagos that I fell in love with karate. I gave it my all. I got my black belt, became a sensei and set up my dojo.
By 2017, I had a fully functioning tech support business and a dojo where I taught karate. Life was good, so I decided to visit my friend in the US. The embassy rejected my visa again. They said I didn't have strong enough ties to Nigeria.
Omo.
Rejection again. It was terrible. But I didn't make a big deal out of it. I met my wife shortly after and in 2018, we got married.
Immediately after our wedding, she got pregnant. That was when I actively started looking for ways to leave Nigeria. I'd seen all the ways Nigeria could fail someone and didn't want my child to be born here. We applied for my wife to travel to have her baby, but we were rejected again. We had our twins in Nigeria.
Congratulations!
Haha… Thanks! At this point, I'd become obsessed with the idea of leaving Nigeria. My wife knew too, so she suggested every avenue she stumbled upon, but we didn't go with any one of them because they were scams.
By 2019, we sold all our property and got a fully furnished apartment. We didn't want anything to hold us down when we got the opportunity to leave. It was also in 2019 that I decided to reduce the energy I put in my tech support business and put it all in my martial arts.
In 2020, Covid came and I had to shut down the dojo. You can't do karate and jujitsu while practising social distancing. We became really broke.
Damn.
Nigeria was terrible in 2020. A disease was changing the way humans interacted, there was unrest, insecurity, poverty, and to make things worse, instead of our government to help us, they hoarded the things we needed the most. So I called my friends abroad and started complaining. I think at some point, they got the message that I was broke, and a few of them sent me money.
It was also in all of this madness that I ventured into content creation and got my first job writing for an American company that paid in dollars. I tasted foreign currency and didn't look back. I made thousands of dollars a month writing SEO articles. At some point, I decided to train young people, put them on a monthly salary and start my own company. Whatever writing jobs I got apart from my main one, they'd do it and get some money, and then I'd keep the rest. It was amazing. But I wasn't spending any of this money. I was keeping it all. I needed a war chest so that I would never be in a position of helplessness again.
A responsible man.
And then my wife found the perfect opportunity for us. The UK was letting people stay for two years after they completed their academic studies. We jumped on it like ants on sugar. My wife applied for a master's, we got our visas, and we left a few days before 2020 ended. It was all funded by my online writing gig.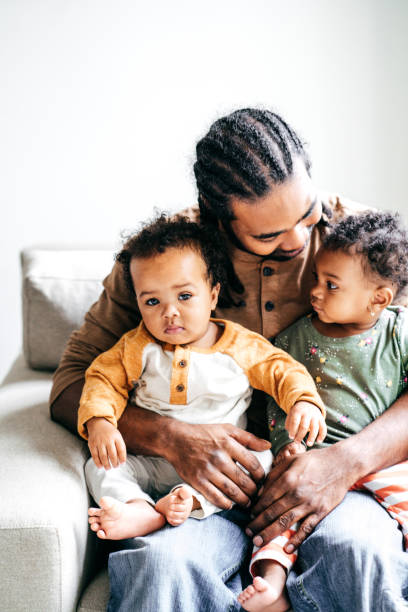 What's it like in the UK?
It's amazing. We have a nice little apartment in a city that's not so busy. I've had to become a more involved father because my wife is busy with her masters and her full-time job. From time to time, I still write for money, but I'm mostly just watching the kids. It's a lot of learning for me, but I'm happy to be doing it in a place like this, with my family happy and living together.
---
Hey there! My name is Sheriff and I'm the writer of Abroad Life. If you're a Nigerian and you live or have lived abroad, I would love to talk to you about what that experience feels like and feature you on Abroad Life. All you need to do is fill out this short form, and I'll be in contact.