Brethren, because we're currently in the age of Miss Corona, there's news about her EVERYWHERE you turn. You've thought of tuning it out but won't because you need to keep up with the recent developments. It's exhausting. You're exhausted. Chile, we get it. With that in mind, here are 5 funny Nigerian TV shows suggested by 5 Zikoko writers you can binge to take your mind off who's coming to dinner (Miss Corona).
1) Assistant Madams (suggested by Daniel)
According to RedTV's website, Assistant Madams chronicles the lives of three beautiful hustling ladies played by Sophie Alakija, Osas Ighodaro, and Tana Egbo-Adelana, who are hell-bent on living their best lives at any cost, one man at a time.
As Daniel already established in his episode of Zikoko's "Quickie", everything about this show is bad. The writing, acting, editing, sound mixing etc. And that, ladies & gents, is why he wants you to watch it. The show manages to achieve the rare feat of being so bad, it's good. Trust him, y'all. He's not wrong. There are 5 episodes currently available and you can watch them all on RedTV's YouTube channel.
2) The Men's Club (suggested by Boyin)
The Men's Club stars Ayoola Ayolola, Etim Effiong, Enado Odigie, and Baaj Adebule as four friends who come together in sharing their highs and lows all the while being surrounded by their women, their businesses, and the hassles of their city.
A thing you should know is that The Men's Club and Assistant Madams both exist in the same fictional universe. Watch this show and get your entire life. There are 2 seasons currently available to watch on RedTv's YouTube channel.
3) Jennifa's Diary (Suggested by Astor)
Jenifa's Diary documents the life and hilarious hijinks of Jenifa (yep, the same one from the movie trilogy) after she drops out of university to become a hairdresser.
This show began in 2015 and somehow has 18 seasons already. Don't let this scare you, though, because pretty much every episode is thigh-slappingly hilarious. It's comedy at its purest form and if you don't enjoy it, chile, you need help. You can watch all the available episodes on SCENEONETV's YouTube channel.
4) Skinny Girl in Transit (Suggested by Toke)
Skinny Girl in Transit follows that life of an overweight girl named Tiwalade and her struggles to lose weight and find a man, triggered by her mother's incessant complaints and emotional blackmailing.
It stars Abimbola Craig, Ngozi Nwosu, Sharon Ooja, Bisola Aiyelola, Ayoola Ayolola and a host of others. The 6th season began on the 14th of February 2020. All episodes are available on NdaniTV's YouTube Channel.
5) The Johnsons (Suggested by Toheeb)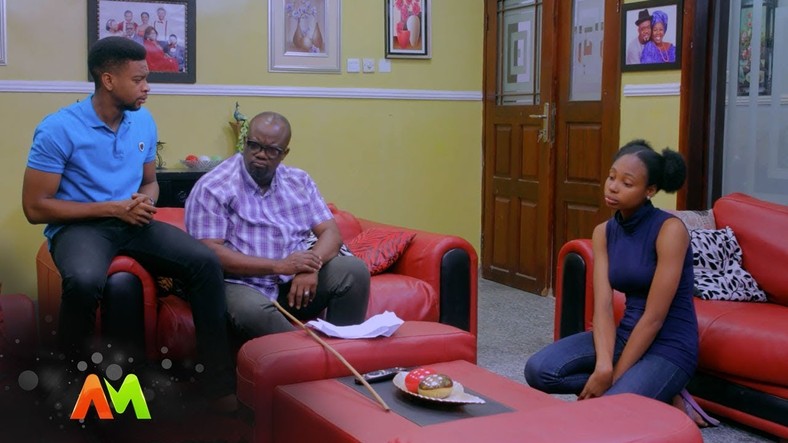 The Johnsons is a sitcom-style TV series which focuses on the eponymous family, the diverse traits of its many members, and how they cope with life in Lagos, Nigeria in relation to relatable social issues.
It stars Charles Inojie, Chinedu Ikedieze, Ada Ameh, Seun Adebajo Osigbesan, Kunle Bamtefa, and Samuel Ajibola. It airs on Africa Magic.
There you go. 5 funny Nigerian TV shows to get you through this difficult time. Speaking of Miss Corona, how prepared are you for her? Click here to take a quiz to found out just how prepared you are.
What's up, Zikoko Fam? It would mean the world to us if you spared a few minutes to fill this Reader Survey. It's so we can bring you the content you really want!