Itodo Samuel Anthony taught math, chemistry and physics in the village for six years. In that time, he transformed the learning culture of his community, won The Future Africa Award for Education and was named in the top 50 at the Global Teacher Prize. How did he achieve these feats?
As told to Ama Udofa
First teaching experience
I finished secondary school in 2002 and needed a job to keep me busy during my gap year. While going around the neighbourhood, I saw an advert — a secondary school needed a math teacher. I didn't want to stay at home, so I thought, "At all at all na him bad pass."
I didn't even have an application letter because I was never planned to teach. I'd been a very timid teenager. Back in secondary school, If I had a question, I'd ask a classmate to help me relay the question to the teacher. I passed the hiring process, and the proprietor was surprised because I was just 16 and did better than applicants with tertiary education. He refused to offer me the teaching job, though, because he didn't expect a child to teach children. Instead, he assigned me to teach math in the primary school section.
On my first day at work, I was so nervous. But the moment I opened my mouth, everything fell into place, and it felt like I was born for the moment.
What came after
I taught in schools until I got admitted to university to study petroleum engineering. I wasn't a serious student at all. I rarely went to class. When people are going to class, I'd be sleeping. But I made up for this by studying at night and reading ahead of schedule. One of the rare times I went to class, a lecturer asked a calculus question. I thought it was simple, but nobody could answer it in a hall of over 800 students. The silence was so resounding that I froze when the lecturer called my name. Apparently, my right hand was up, even though I didn't know how it got there. I solved the question and instantly became popular.
Immediately I sat down, three ladies came to sit with me. I quickly become popular — among peers, admirers, struggling students, et cetera. I started a study group in Uniport, which evolved into a tutorial class with me as the teacher.
From petroleum engineering to full-time teaching
My plan was to finish school and work in the oil industry for a couple of years — maybe five, ten years max, make money, then venture into an agro enterprise. When I retired, I would teach in a secondary school.
But…
After Uniport, I got a Masters' scholarship abroad at Herriot Watt University in 2013. When I came back, I searched for the elusive job in Oil & Gas for four months. I got tired of waiting and went into the streets to search for teaching jobs as I did all those years ago. I found a teaching job for ₦20K per month, but I didn't stay long.
A pastor owned the school, so it was ironic when he wanted me to "help" the students cheat during WAEC. I refused. The payment wasn't much anyway, but my time had to be worth something. The SS3 students became disrespectful when the principal turned them against me by telling them I had no plans to supply them with exam expo.
There was no point teaching if I would still have to feed them answers during exams, so I resigned.
Relocating to Benue State
My father owns a school in Makurdi, but I turned down the offer because they already had teachers and solid facilities. I decided to go somewhere I could fulfil a great need. In 2014, I travelled to Otukpa, a village on the outskirts of Benue State, where I lived and taught for six years.
Gateway Excel College needed a math teacher, so I filled the role. I also taught chemistry. I noticed that the students didn't have any internal motivation; they just went to school routinely with no real prospects. I think that being a student should mean much more.
Revamping the learning culture
At once, I noticed that most students forget 80% of what they wrote in the exam almost immediately after. I thought there was a better way to learn and build life skills. For me, the focus was leadership, responsibility and critical thinking. I noticed that students were not thinking at all; they were primarily just receptors of information. I had a student in class who everyone regarded as a lord. He was good, but he was only good at memorising. The problem with memorising is that it blocks your ability to think.
There were no extra-curricular activities. I wanted to change the way the students approached learning. I founded a JETS club for senior secondary students, and they were so excited that they formed a junior JETS club for junior students. Other teachers were inspired, and in time, an Arts and Social Club and Press Club were created, which provided students with additional avenues to learn and express themselves.
Learning should make people productive, to be able to solve problems, not just be fixated on cramming theory. So I introduced projects to the school. I sourced computers and tutorials for them to get their hands busy.
The third major problem was that students were ignorant of the world outside Otukpa. So, I implemented game shows and challenges to get students involved in current affairs and learn more about Nigeria and the world. Winners enjoyed perks like being the president of the school for one week. The biggest challenge was that students didn't have phones and couldn't access the internet. When I first joined, only one student in the school had an email account. I had to start an e-Library.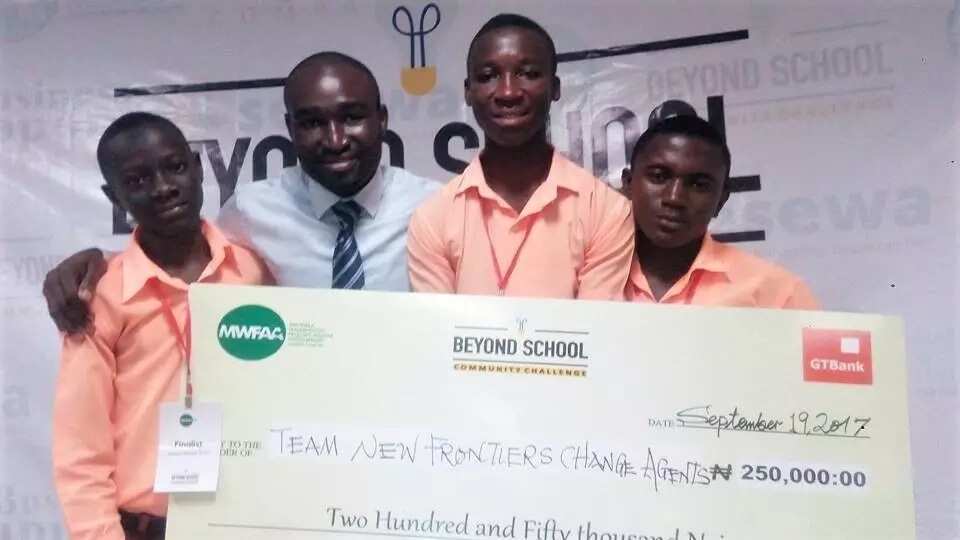 Funding the dream
I loved my work so much that I couldn't stop talking about it. I made Facebook my daily journal and wrote about my work and students. People got interested — It was fascinating that someone could be so passionate about teaching in such circumstances and bought into the vision.
Take the e-Library project, for example; one lady gave us money for four computers. Someone sent us money to refurbish a room and set up a computer room. Someone sent money to hire buses for our excursions. Stardust Technologies visited and installed solar electricity for free. The support was amazing and transformed the way students approached learning. Students started researching, creating, applying for scholarships, grants, et cetera.
In 2017 and 2018, my students won the Mandela Washington Fellowship Alumni Association's Beyond School Community Challenge business idea pitching competition.
I founded the New Frontiers Youth Forum, which served as an umbrella for these initiatives. We started a fund to help students gain access to healthcare as we had previously lost two students to easily preventable deaths. We also granted seed funding to women in the community to start small businesses.
Resisting exam malpractice
So the routine is, everyone loved me until exam week. I am staunchly against cheating. Even external invigilators for exams like WAEC and NECO didn't like me. It's not like people had a lot of money to spend on malpractice as my school wasn't giving them any money anyway. It was mostly a case of, "Please just help our children na."
I resisted it because I knew my students had the ability, but everyone around them was doing it, cheating was almost cultural. Gradually though, more students started to attempt exams without resorting to malpractice.
Personal finances and lifestyle
When I started, I was earning ₦18,000 monthly. It grew to ₦25,000 and later peaked at ₦50k in the final two years before leaving Nigeria. But I managed okay. I lived in an uncle's house free of charge and didn't have any black tax to pay. My mum wanted to finish me with homemade food. I also kept to myself a lot. My only splurging — if you would call it that — was stepping out to watch football on weekends at a viewing centre.
The school was my life, and I didn't have time for much else. By village standards, the money was enough for me to survive. I was even able to pay school fees for some students. Also, every once in a while, someone from Facebook would send me a cash gift to appreciate my work.
Life in the village got boring sometimes. I'd think, "If to say I dey Lagos now, I for dey see better thing." There weren't many people I could sit and talk with because we had too little in common. But all in all, I loved the serenity of the village.
The Global Teacher Prize and The Future Awards Africa Prize for Education
In 2017, I learned about the Global Teacher Prize — the world's most prestigious teacher prize. I'd won a few competitions before, but I was particularly interested in this prize because it wasn't academic. Instead, it rewarded people for the impact they'd made in the lives of their students. Everything I'd done in my career prepared me for the recognition, but I didn't apply for the prize that year because I felt my resume wasn't strong enough. I spent another year doing more work in the school and the community before applying for the prize in 2018 when I got nominated in the top 50. The same year, I received The Future Awards Africa Prize for Education.
Career motivation and personal values
One thing that kept me going was my value system. Even though I earned a paltry salary, no one could shame me. I was convinced that I was doing a noble job. If someone talked down to me, what would they use to shame me? My low salary? The reason I earned a meagre wage was that I was teaching. And teaching is something that no one shouldn't be ashamed of. Of course, there were times when I felt pressured, but I loved and believed in my work. I once interned at an oil servicing company, and it was terrible. I could not wait for 5 p.m. every day. With teaching, it was different — I was fully invested.
But I knew that I had to leave the village at some point because I wasn't going to start a family on a ₦20k salary. However, I left Otukpa a fulfilled man. And I am grateful for the opportunity to have made a lasting impact.
What's next?
I'm at the point where money is becoming more important to me. I'm thinking of starting a family, so the pressure on me to make money now is stronger. I've always prioritised job satisfaction over money, but right now, If I'm offered a job I don't like, I can't tell if I would refuse it. One thing I know for sure, though, is if I'm doing a job I don't like, I'm not going to be there for long.
I'm currently on a Masters scholarship studying Sustainable International Development at Brandeis University. I'd love to work in the field and contribute actively to underserved societies. I think I'll still end up in the classroom eventually. There are so many paths to take, and I intend to refine my plans next year. The future is uncertain, and I am excited to embrace new opportunities.