Sometimes we just want fun, uncomplicated sex, and a one-night stand — hooking up with a hot stranger with the intent of never seeing them again — can be quite ideal for scratching that itch.
So, we asked a bunch of Nigerians to share their most memorable one-night stand stories, ranging from the magical to the painfully awkward. Here are 7 of the best answers we got.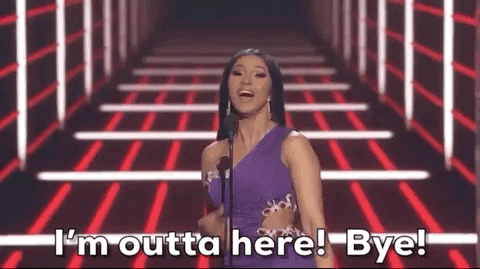 Ada, 34/Female/Bisexual
I wouldn't say I typically have one-night stands, but it tends to work out that way. I'm partial to fucking, running and never contacting the person again, especially if I can help it.
My most memorable story happened right after I'd gotten out of a long-term relationship. I went to a bar to meet a date, but we didn't have a lot of chemistry, so she just ended up being my bar-hopping buddy for the night.
As the night went on, a cute soldier approached us and started making conversation. I thought he had eyes for my date, but it was actually me he was ogling. We got really wasted, and I invited him back to my place.
We did it right on my couch and it was great. When it was over, he was gunning for round 2, but I'd gotten my orgasm and needed him to leave. After a lot of fake yawns and "I have to get up early" hints, he finally left.
James, 26/Male/Bisexual
I used to have a lot of one-night stands in my early twenties, but I think I'm just too old now. Out of all those experiences, the most memorable one happened while I was doing my Masters in Aberdeen.
I went to the cinema alone and sat next to a very pretty Arab chick. She caught me staring and asked if I was looking at her tits or her face. I replied tits, and she said if I left with her immediately, she might let me touch them.
I abandoned the movie, and we got a taxi to her place. The sex was great. I took a nap after, but she woke me up fully dressed in a hijab, looking completely different. She told me her husband would be home soon, so I literally ran.
Mary, 22/Female/Straight
I don't typically have one-night stands. In fact, my "memorable story" was my first-ever one-night stand, and I don't think I'll ever do anything like it again. The night still weighs on my mind.
So, I went clubbing with a few friends, and I spotted this really cute guy. He was sitting with a woman, and they looked really cosy. It seemed like they came together and were maybe in a relationship.
I was having fun, but I kept staring at him. I was there with a mix of people, so I would occasionally dance with the guys. I was grinding on one of them and it seemed like he was staring. So, I started grinding more intensely.
A few minutes later, a waitress came over to say someone wanted to talk to me outside. He wasn't at his table, so I figured it was him. I went outside, he introduced himself and asked me to enter his car so we could drive around.
I was apprehensive, but I did it. He drove to a dark corner and we ended up having sex in the car. When we finished, we headed back in silence. Before we got to the club, he asked me to come down and walk the rest of the way.
Chris, 29/Male/Sexually Fluid
I usually don't do one-night stands. The first time I ever tried it, I ended up in a 4-year relationship. There was one experience, however, that was very thrilling for me.
One night at a bar, a friend introduced me to his guy. We got talking, hit it off and started checking out babes together. He was telling me how he wanted to find a girl he could take home that night.
Well, he didn't have any luck with the girls, and before I knew it, he was giving me head in the car while we drove to his apartment. We had really great sex that night. Then the next day, we went our separate ways.
Ify, 26/Female/Bisexual
I don't usually have one-night stands, but I have a memorable story. I attended a wedding with a date, and while we were together, I spotted a fine man with what I'd like to call, "fuckable hands".
We kept staring at each other for prolonged periods of time, so when my date got called to go move his car, Mr Fuckable-Hands came over. We talked for a bit and exchanged numbers.
He texted an hour later, asking me to come to his hotel for a dinner date. During the date, I excused myself to go to the bathroom. He followed me in and we fucked with his coat laid over the sink. I blocked his number after.
Tobi, 32/Male/Gay
I never used to do one-night stands, but it's become a lot more common since I turned 30. After a series of crap relationships, I'm only interested in no-strings-attached sex. The story I have is me at my most detached.
So, I really hate dating apps, but I tend to download them whenever my horniness clouds my judgement. One night, I downloaded one and started a brief conversation with a guy that was very close by.
Without asking for his name or even his picture, I invited him over. When he arrived, we didn't say a word to each other. We just ripped our clothes off and fucked. Once we were done, he left. I still didn't get his name.
Chinyere, 25/Female/Straight
I don't have one-night stands as often as I'd like, mostly because I rarely find men with sense that I am sexually attracted to. So, it's no surprise that my most memorable experience happened in a different city: Paris.
During the trip, I opted to stay in a hostel for the first few days, so I could meet other tourists. When I walked into the room, I saw the most beautiful man. He was like something straight out of a movie. I'm not even joking.
We automatically knew we were hot for each other. So that night, we faked some activities with our hostel mates, then I disappeared. He left to "look for me" and ended up giving me head in the dressing room of a store.
After that, we headed back to the hostel and had sex all around the room. We only stopped when we heard the sound of the key card. Our hostel mates had come back since they couldn't find us.
---
If you would like to read more Sex Life stories, you can click right here.