Contrary to what generic romantic comedies want us to believe, sex isn't always sexy. Sometimes — more times than we'd like to admit — it's awkward, messy and embarrassing.
So, to make you feel a bit better about your own sexual fumbles, we decided to ask a bunch of Nigerians to share their most embarrassing sex stories. Here are 7 of the best entries we got.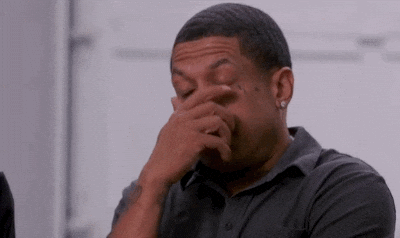 Tolani, 25/Female/Straight
After talking to this guy for a month, I decided it was finally time to go over to his place. When I got there, he'd already cooked me really spicy Indomie. It was so nice that I almost licked the plate, but I had to respect myself.
Fast forward a bit, and we were making out in his bed. He started to finger me and that's when I felt a burning sensation. This man had used his bare hands to cut the pepper for the Indomie earlier.
I first tried to chest it, but it only got worse. He sensed my discomfort and asked if I was ok. I had to confess that my vagina was on fire. We were both too embarrassed to continue that night.
David, 27/Male/Straight
I started talking to this babe when the lockdown was first imposed, and things quickly got very sexual. We used to sext a lot, going on and on about all the filthy things we'd do to each other once we saw.
She finally came over a few days ago, and it was a disaster. I don't know if it was all the pent up horniness from the past few months, but I didn't last up to 20 seconds. Somehow, that wasn't even the most embarrassing part.
She actually offered that we try a second time, but my dick wasn't having it. No matter what we did, I couldn't get hard again. After a while, she just patted me on my head, chuckled and left.
Ify, 24/Female/Bisexual
I was making out with this guy in uni, and it started getting pretty intense. He wanted to eat me out and I was so into it that I completely forgot I was wearing a tampon. That's how this guy started pulling the string.
My period had officially finished, but you can never be too sure, so I was wearing one just in case. He kept pulling the string and asking what it was, while I was struggling to hold it in with all my pelvic strength.
I didn't want him to take it out because I wasn't sure if there was going to be blood on it, and I didn't have another one to change with. So, I lied that it was my IUD I'd put it in a week prior, and I was still a bit sore.
So, instead of eating me out, he avoided my vagina completely and just kissed me everywhere else. He also kept doing this baby voice like, "Aww! I'm so sowwwy baby. Does it hurt?" I couldn't get out of there fast enough.
James, 30/Male/Bisexual
I've never really been a fan of giving blowjobs. It's just so much effort for nothing in return. Anyway, I have this "straight" neighbour who I hook up with every now and then — like once a month.
One day, he texted me, clearly high, asking, "Do you want to suck my dugun?" That's an exact quote. Don't judge me. Usually, I'd ignore it, but I was particularly horny that day. So, I went over to his and got right to it.
Without warning, he pushed all 8 inches into my throat and I immediately vomited. Not just a little bit. Half-digested egusi soup came pouring out of me onto him. Understandably, we haven't hooked up since then.
Ada, 23/Female/Bisexual
I was sexting with this new guy and it was going really well, so he asked if we could try phone sex. Even though I know I'm a lot more comfortable over text, I thought I was horny enough to make it work.
We started the call and halfway into it, this motherfucker asked me to sing Beyoncé's "Rocket" so he could come. My brain couldn't process the request, so I just cut the call and blocked him everywhere.
Tomiwa, 29/Male/Straight
So, the first time I had sex, I did a lot of research to avoid embarrassing myself. I gave her head and she returned the favour. For a newbie, everything seemed like it was going well.
I eventually showed my naivety when we started fucking. Every time she tried to rub her clit, I would slap her hands away. I didn't understand what she was trying to do — it didn't show up in my research.
She eventually became very frustrated and I didn't understand why. To this day, I still randomly remember how clueless I was and feel ashamed of myself all over again.
Dami, 22/Female/Questioning
Last year, I met up with an old friend who'd been wanting to have sex for a while. We had dinner and drove to somewhere secluded. I was a bit reluctant because, while I'm a fan of risky sex, I just felt off that night.
We started making out and I eventually got into it. That's when he noticed the headlights of a police car. I'm not sure if it was euphoria or disbelief, but I couldn't get off him until they were right at the window shouting at us.
I got really scared and tried to put on my jeans, but they weren't having it. I was able to snap my bodysuit together before getting out. They raised hell, saying they were going to arrest us for public indecency (not a crime btw).
I had to resort to begging and fake tears. Eventually, they drove us to an ATM, collected money and drove off. I couldn't process anything until they left, and then I just started laughing. It was embarrassing, funny and scary. 
This quiz knows you better than your past lovers. Take it here.