We can all that agree that realising you've been cheated on is never a good feeling, but sometimes, the way you learn about your partner's infidelity can add insult to an already painful injury.
So, we decided to ask a bunch of Nigerians to share how they discovered they were being cheated on. From unlucky coincidences to guilty confessions, here are 7 of the best answers we got.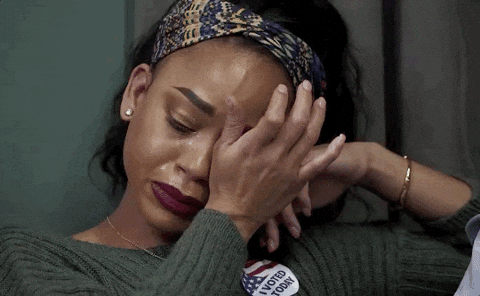 Ada, 29/Female/Straight
The babe and I are actually birthday mates. He brought cake and gifts to my place in the morning, then told me he was on call and would have to see me the next day.
Meanwhile, he'd organised a surprise birthday dinner for her in some fancy restaurant that night. A friend of mine was on a date there and sent me that "Is this not your boo?" text.
She even sent pictures and a video of the girl entering and everybody shouting, "Surprise". All his friends that had texted me "Happy birthday, our wife" that morning were all there.
Samuel, 29/Male/Straight
This happened a while ago, but it's still paining me. My ex and I were uni sweethearts — we dated for our last 3 years in school. I planned to marry her, and we'd actually discussed it.
It was during our convocation that I saw her real fiancé. The guy even bought her one big car to celebrate her graduation. Imagine being the broke side dude for 3 years and not even realising it.
Maryam, 24/Female/Straight
Both of us and a group of friends went out for shisha and drinks one night. Even though I was really high, I eventually noticed that my boo was missing and everyone was acting really weird.
When he didn't show up after a while, I decided to leave. While we were driving out of the car park, I saw him fucking another babe in a car. My brain didn't even properly process it until we'd left the place.
Williams, 22/Male/Gay
I was at my boyfriend's place one day and a friend of his came over. He introduced me to her, we talked for a bit and after a while, I decided to go for a walk.
I came back thirty minutes later, and the doors were locked, the windows were closed and his neighbours were quietly cheering him on. That's how loudly he was cheating.
He eventually opened the door and realised I'd been there the whole time. He later told me that she was actually his babe and they'd been together since before we met. I didn't even know this nigga was bisexual.
Joy, 27/Female/Straight
It was my ex-fiancé. He was supposed to return to Nigeria on a particular day, but he didn't call the day before or even after he returned. His number was switched off.
Then one day, he called me with a strange number to get information about something he was working on. He ended the call immediately I gave him the information.
I later called the number and realised it was the babe he had told me not to "worry about" when we were together. He had apparently been in Lagos with her since he got back.
Reni, 20/Female/Straight
He told me he had a business meeting, so he left me at home with his laptop to watch a show. He completely forgot that his WhatsApp was still linked to his laptop
So, I kept getting notifications as he and the babe were coordinating their rendezvous at a bar. I didn't even get to enjoy the damn show he recommended.
Doyin, 24/Female/Straight
I had a silly argument with my boyfriend and he stopped picking my calls. I knew something was up immediately. A few days later, he resurfaced with an apology and we planned a weekend getaway.
We got to the hotel and he said he needed to get something, so he left his phone with me. He got a message from a babe, so I opened it and pieced together that he had hooked up with her the week we fought.
When he got back, I acted completely normal, but he still asked if I was upset with him. Right in the middle of making out, this guy whispered in my ear, "I slept with someone else last week."
He said he'd left his phone unlocked so I'd read the message and he wouldn't have had to confess. But since I didn't seem like I had, he felt guilty and couldn't get an erection.