A line from a popular Yoruba fuji song goes: It is the man with the potbelly you should give the money too. Indeed, Nigerians seem to place importance on how much body fat a man carries. Skinny people aren't really taken seriously in these parts.
Being a skinny man in Nigeria can be very frustrating. We compiled some of the annoying struggles skinny men can relate to.
1. People asking if you've eaten
This has to be the most annoying one. People automatically assume that because you're skinny, you're hungry. 
2. People telling you that breeze will blow you
You'll just be on your own and one mumu will come and say "Don't let breeze carry you away." It's your father breeze will carry away.
3. People telling you you'll break
Anytime you try to life something heavy, that's when busy bodies will come and tell you not to break. Who asked you?
4. Even your partner won't let you carry them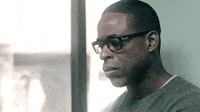 When you're trying to be romantic and carry your lover, they'll say "No babe stop, you can't, you'll break." Crying internally.
5. Finding clothes in the market
Apparently, people who make clothes completely forget about the existence of skinny people. 
You should probably read The World Hates Skinny Guys And These Tweets Prove That.