Are you studying in University of Ibadan but you can't decide on what to do with your partner on Valentine's Day? That doesn't sound like fun, and we're here to remedy it. Continue reading for our suggestions.
Take an evening stroll to Awba Dam
A simple visit to Awba dam could be all you need to have yourself a memorable Valentine's day. Fetch yourselves, walk hand in hand, talk about stuff and connect more deeply. The gate to the dam itself is probably going to be under lock, but don't let it deter you — you will still get a good view of the dam. To reward yourselves, you can make for Jay's spot in Independence Hall for a much-deserved plate of one of the best noodles, chicken, and chips in the university community.
Spend quality time at Botanical Garden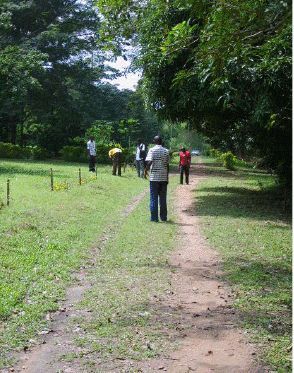 Pay the cheap gate fee and make your way through the plethora of plants and trees you probably don't know their names — but that's where the fun it. You can attempt to read their names from the tags and laugh at your futile efforts. Also, there's a hill at one end of the garden — you can carve your names on it if you're feeling it. It's Valentine's Day, after all.
Hangout in Love Garden or Heritage Park
Well, Valentine is about celebrating love and where better to do this than the UI 'Love Garden'. There's not much to do here but there's a lot to see as it's a hub of activities. All you need to do is to find a seat and watch as everything unfold.
However, if you'd like some privacy — for whatever reasons — Heritage Park, across Queen's Hall is your spot (you didn't hear this from us.)

Spend the day at Agodi Gardens
The #500 (#1500 if you want swimming pool access) gate fee gets you into the garden. Now, all that is left is to explore all its offerings, which include a zoo and other fun options (you will have to pay extra for most of them, though.)
Find what works for you at Ventura Mall
Ventura mall is only some distance away from the university, and pretty much everything you will be looking for is there — from the arcade to Filmhouse cinema. A piece of advice that you didn't ask for: we're not saying that you're broke oh, but you should probably avoid that lounge on the ground floor.
Grab a steaming plate of Amala at Amala Skye
Is well-made Amala and orisirisi your love language? Say no more, Amala Skye in Bodija is there for you.
Grab a couple of drinks at Spices
If it's doing you to grab some drinks, you should go to Spices in the Abadina area. Get a table and order away.
Watch Zikoko Blind Date
We made a new show named Blind Date in which we sent a bunch of single people on an all-expense-paid date, interviewing them before and after they met. The first episode drops February 14 (Valentine's Day) on our YouTube channel.